Golf Course and Sports Turfgrass Applications
Suståne for Professional Turf establishment and maintenance – around the world.
Suståne Natural Fertilizers play an important role in rapid establishment for grow-in's, renovations, and turf maintenance and for use in environmentally sensitive areas.
For all turf and soil types Suståne organics contributes to the success of each project over a wide range of designs in varied climates each with unique agronomic conditions and requirements. Agronomists, golf course architects, grounds managers and course superintendents specify and rely on Suståne to support each project's special needs.
LOW ENVIRONMENTAL IMPACT:
• Organic nitrogen is released slowly to the plant, minimizing loss to the environment.
• The longer N-release reduces labor and energy requirements.
• Suståne stimulates the natural cycling of nutrients and carbon between soil and plant.
• Suståne reduces need for pesticides. Less pesticides reduce maintenance costs.
• Suståne is biologically stable, pathogen free, does not attract wild or domestic animals, birds or insects to establishment sites.
WORLD CLASS PROFESSIONAL GRADE FERTILIZERS
• Long Lasting Soil & Plant Nutrition.
• High Microbial Diversity Index.
• Always Quality Assured.
• Consistent, Uniform Granulation.
• Tested and proven: Since 1988 there have been over 800 independent research studies on Suståne.
LOW CARBON FOOTPRINT
• Made from natural renewable agricultural resources, has a low carbon &greenhouse gasses (GHG) footprint.
• Suståne complies with regulatory mandate and exceeds universal health & safety standards.
• Granulation simplifies handling allowing more accurate application of fertilizer.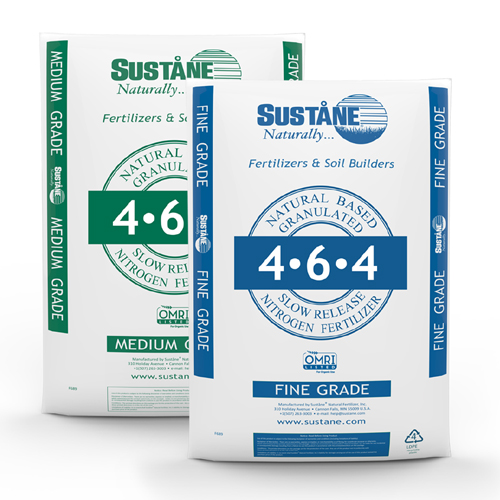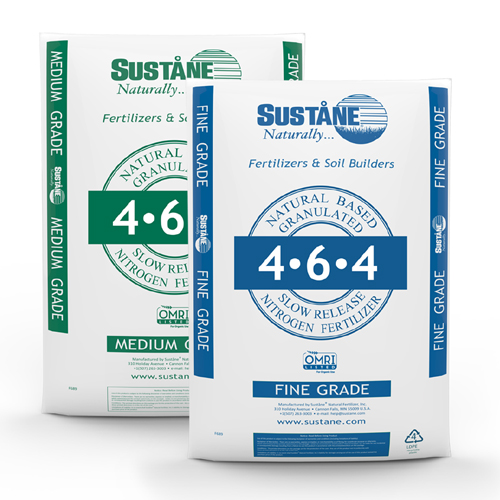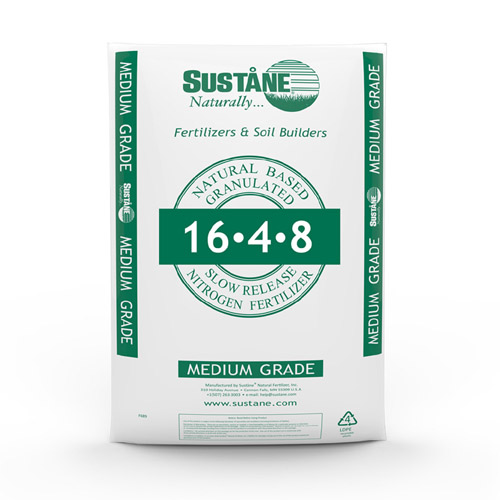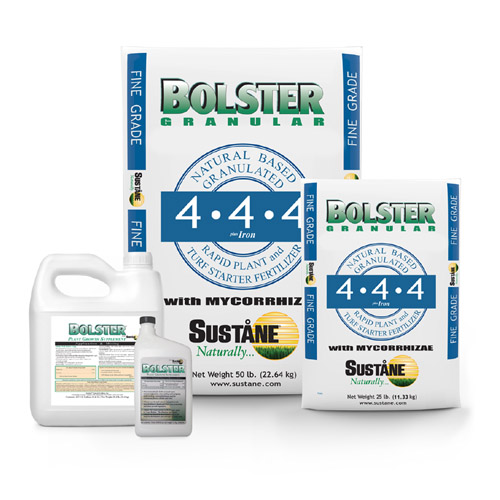 BOLSTER Liquid Plant Biostimulant: with humic acid, seaweed and iron chelate for quick green up without surge growth; improves drought protection and recovery from parasitic nematodes
1-1-1 Soil ReGen – Structural: soil amendment for loosening compacted soils, improving drainage in high-traffic turfgrass areas
4-4-4 BOLSTER: granular fertilizer with Suståne organic compost, mycorrhizae innoculum, and biostimulants, for turf grass, flower and shrub bed soil preparation
4-6-4 Natural: organic all-purpose soil builder for turfgrass, sod, seed establishment and seedling and transplants, and improving phosphorous deficient soils
5-2-4 Natural: organic nitrogen fertilizer source for organic turfgrass, crops, landscapes, sod, flowers and vegetables
5-2-4+Fe: for new turf grass, sod, garden and landscape establishment and maintenance fertilizer
5-2-10+Fe: organic based fertilizer with ideal 1-to-2 N to K ratio N to K for summer and early autumn turfgrass, sod and athletic field feeding in potassium deficient turf swards
Turf Revival 6-2-4+Mg: with mycorrhizae slow release nitrogen for turf renovation projects and turfgrass recovery from maintenance, post-aerification, and seasonal changes
7-2-20 Hi-K: premium homogeneous turf fertilizer formulated for seashore paspalam turfgrass
8-2-4 Natural: organic, hign slow release nitrogen fertilizer for strong vegetative growth in gardens, landscapes, turf grass, flowers and vegetables
10-2-10 +Fe Greens: grade natural based slow release nitrogen fertilizer for close cut turf grass, greens and tees
15-3-9: homogeneous slow release nitrogen turfgrass fertilizer made with Suståne organic compost and UMAXX stabilized N for cool season turf fertility maintenance
18-1-8 +Fe: long lasting, high nitrogen formulation made with Sustane organic compost plus four way release of nitrogen.
All Available 2D CAD Files
All Available Specifications