14000 Series Storefront Framing
Glass or panels can be positioned to the inboard (I) or outboard (O) side of the 4-1/2" depth frame to achieve the look you imagine. Typical glass thickness is 1", and can be installed from the outside or inside of the building. Special glazing pocket reducers allow the use of 1/4" infill thicknesses, too.
14000 I/O Series Multiplane Storefront Framing thermal barrier insulates exterior surfaces from the interior to minimize temperature transfer. This provides industry accepted performance for condensation resistance and energy performance. Using the same design, assembly, and accessories as the 14000 center glazed system allows combining inboard, outboard and center planes of glass in the same elevation with the same great performance.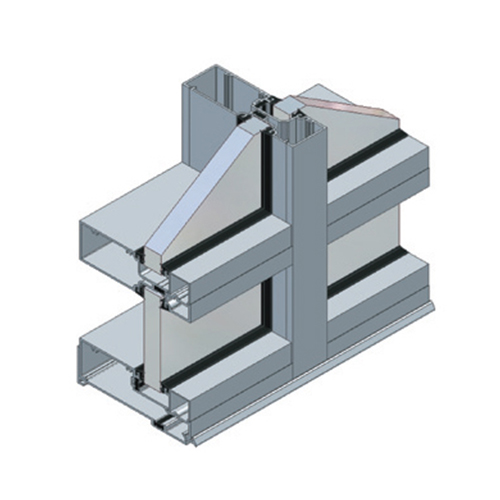 14000 I/O Multiplane Storefront Framing
14000 Series Storefront Framing - E14000
14000 Series Storefront Framing Curtainwall / Window - T14000
T14000 - 4.5 Inch x 4.5 Inch Intermediate Horizontal
T14000 - Alternate Head with Glazing Reducer
T14000 - Head with Glazing Reducer - HEAD6
T14000 - Head with Glazing Reducer - HEAD7
T14000 - Horizontal with Glazing Reducer - HORZ3
T14000 - Horizontal with Glazing Reducer - HORZ8
T14000 - Two-Piece Curvable Header
T14000 - 4.5 Inch X 4.5 Inch - 90° Corner
T14000 - 4.5 Inch X 4.5 Inch - Intermediate Vertical
T14000 - 4.5 Inch x 4.5 Inch Alternate 90° Corner
T14000 - 4.5 Inch x 4.5 Inch Sill
T14000 - 4.5 Inch x 4.5 Inch Three Way Corner
T14000 - Alternate Head Members
T14000 - Alternate Intermediate Vertical - VERT1
T14000 - Alternate Intermediate Vertical 14.51
T14000 - Alternate Intermediate Verticals 14.47
T14000 - Alternate Sill with Glazing Reducer - SILL6
T14000 - Alternate Sill with Glazing Reducer - SILL7
T14000 - Elevation & 1/4 Size Details
T14000 - Heavy Duty & Expansion Verticals
T14000 - Inside Glazed Head & Intermediate Horizontal
T14000 - Inside Glazed Sill Member
T14000 - Intermediate Vertical with Glazing Reducer - VERT3
T14000 - Intermediate Vertical with Glazing Reducer - VERT5
T14000 - Intermediate Vertical with Glazing Reducer - VERT7
T14000 - Intermediate Verticals for Clip Joinery
T14000 - Jamb with Glazing Reducer
T14000 - Rotational Mullion
T14000 - Sill with Sidelight Base Adapter
T14000 - Standard & Alternate Head Members
T14000 - Standard & Alternate Sills
All Available 2D CAD Files
All Available BIM and 3D Files
All Available Specifications