300ES Series Curtainwall Windows
Tubelite 300ES Curtainwall Series Framing is designed for superior thermal performance using Therml=Block thermal strut technology, featuring System U-Factor as low as 0.31 and Condensation Resistance Factor (CRF) up to 81 using 1" insulating glass.
The exterior face has a 2-1/4" sightline and available in 6" and 8" depths. Ideal for curtainwall applications up to four stories and the inside glazing feature offers reduced field installation time and expense. Separate interior and exterior frame members allow different finishes on each.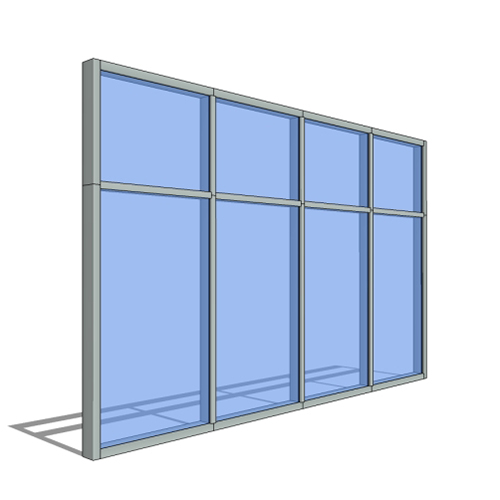 300ES - 1/4 Size Detail 23.03
300ES - 1/4 Size Detail 23.21
300ES - Inside Set Head 23.13
300ES - Inside Set Head 23.18
300ES - Inside Set Head 23.31
300ES - Inside Set Head 23.36
300ES - Inside Set Horizontal 23.14
300ES - Inside Set Horizontal 23.32
300ES - Inside Set Jamb 23.16
300ES - Inside Set Jamb 23.34
300ES - Inside Set Jamb with Anchors 23.17
300ES - Inside Set Jamb with Anchors 23.35
300ES - Inside Set Sill 23.15
300ES - Inside Set Sill 23.33
300ES - Outside Set Head 23.07
300ES - Outside Set Head 23.25
300ES - Outside Set Horizontal 23.08
300ES - Outside Set Horizontal 23.26
300ES - Outside Set Jamb 23.10
300ES - Outside Set Jamb 23.28
300ES - Outside Set Jamb with Anchors 23.11
300ES - Outside Set Jamb with Anchors 23.29
300ES - Outside Set Sill 23.09
300ES - Outside Set Sill 23.27
300ES - Outside Set Vertical 23.12
300ES - Outside Set Vertical 23.30
300ES Series Curtainwall/Ribbon Window - Sheet 1 of 4
300ES Series Curtainwall/Ribbon Window - Sheet 2 of 4
300ES Series Curtainwall/Ribbon Window - Sheet 3 of 4
300ES Series Curtainwall/Ribbon Window - Sheet 4 of 4
All Available 2D CAD Files
All Available BIM and 3D Files
All Available Specifications