400 Series Curtainwall
Designed for low- and mid-rise applications, the durable framework of the 400 Series Curtainwall provides exceptional structural performance reducing the need for steel reinforcing. This system has a sightline of 2-1/2" and the strength of variable-depth backmembers from 3-3/8" to 8". An exterior screw-applied pressure bar secures the glass.
Snap-on covers, available in a wide range of colors, allow for different finishes on interior and exterior exposed surfaces. Silicone-glazed verticals are available for a seamless appearance.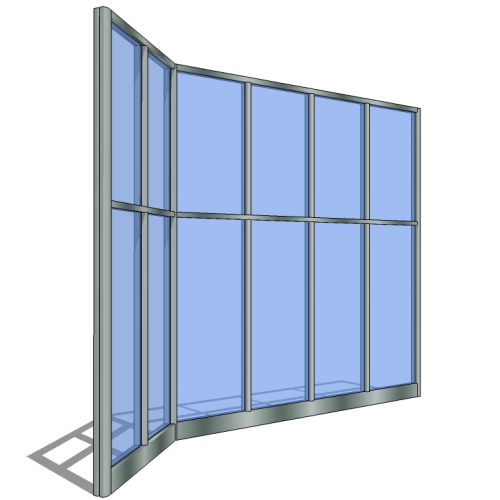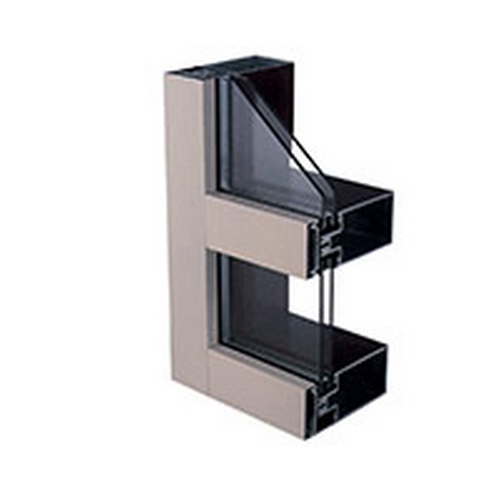 400 Series Curtainwall/Ribbon Window
400 Screw Spline Curtainwall/Ribbon Window
400SS Screw Spline Cassette Curtainwall
400 IG Series Curtainwall/Ribbon Window
400 - Outside Corner - Captured 4 Inch System
400 - 90° Outside Corner - Butt Glazed 4 Inch System
400 - 90° Inside Corner - Butt Glazed 4 Inch System
400 - Outside Corner -Butt Glazed 7 Inch System
400 - 90° Outside Corner - 7 Inch Captured System
400 - 90° Outside Corner - Captured 7 Inch System
400 - 90° Inside Corner - Butt Glazed 7 Inch System
400 - 90° Outside Corner - Butt Glazed 8 Inch System
400 - 90° Inside Corner - 8 Inch Butt Glazed System
400 - Door Jamb with Medium Stile - Offset Pivot or Butt Hinge
400 - Door Jamb - Medium Stile with Continuous Hinge
400 - Door Jamb with Narrow Stile - Offset Pivot or Butt Hinge
400 - Door Jamb - Narrow Stile with Continuous Hinge
400 - Door Jamb with Wide Stile - Offset Pivot or Butt Hinge
400 - Door Jamb - Wide Stile with Continuous Hinge
400 - Door Jamb - Offset Pivot or Butt Hinge - DRVS
400 - Door Jamb - Offset Pivot or Butt Hinge - DRVS1
400 - Door Jamb - Center Pivot
400 - Door Jamb - Offset Pivot or Butt Hinge - DRVS6
400 - Glass Pocket Reducers & Pressure Plate Covers
400 - 4 Inch Open-Back Head/Jamb
400 - Open-Back Head/Jamb 21.26c
400 - Open-Back Head/Jamb 21.26e
400 - 6 Inch Open-Back Head/Jamb
400 - Open-Back Head/Roll Over Shear Block
400 - Standard Horizontal
400 - 5 Inch Silicone Glazed Horizontal
400 - 5 Inch x 4 Inch Horizontal
400 - 4 Inch x 4 Inch Horizontal
400 - 4 Inch x 5 Inch Horizontal
400 - Alternate Horizontal
400 - Roll Over Horizontal
400 - Roll Over Horizontal - From Bottom
400 - Miscellaneous Snap Covers -1/4 Scale 21.32
400 - Miscellaneous Backmembers - 1/4 Scale 21.38
400 - Miscellaneous Snap Covers -1/4 Scale 21.33
400 - Miscellaneous Pressure Plates - 1/4 Scale
400 - Miscellaneous Adapters - 1/4 Scale
400 - Miscellaneous Backmembers - 1/4 Scale 21.36
400 - Miscellaneous Backmembers - 1/4 Scale 21.37
400 - Miscellaneous Backmembers - 1/4 Scale 21.39
400 - 4 Inch Open-Back Sill
400 - 5 Inch Open-Back Sill 21.26d
400 - 5 Inch Open-Back Sill 21.26f
400 - 6 Inch Open-Back Sill
400 - Vertical Splayed Corner
400 - 5 Inch Splayed Mullion
400 - Splice Installation - E4TB223, E5TB223, E6TB223
400 - Transom - Offset Pivot or Butt Hinge - TRAN
400 - Transom - Offset Pivot or Butt Hinge - TRAN1
400 - Transom - Offset Pivot or Butt Hinge - TRAN2
400 - Transom - Offset Pivot or Butt Hinge - TRAN3
400 - 5 Inch x 4 Inch Vertical
400 - Silicone Glazed Verticals
400 - Silicone Glazed Verticals - 1/4 Inch Glass
400 - Intermediate Verticals
400 - Elevation @ Head/Jamb Joint with
400 - Elevation @ Head/Mullion Joint with
400 - Elevation @ Sill/Mullion Joint with
400 - 6 Inch x 3 3/4 Inch
400 - 7 1/2 Inch x 5 1/4 Inch
400 - 10 Inch x 7 3/4 Inch
All Available 2D CAD Files
All Available BIM and 3D Files
All Available Specifications