1 1/2" no 10. ga Sure Guard™
The G-S Company has manufactured and installed top quality, durable physical security systems for over 70 years. Our work can be found in all 50 states and abroad.

Experience the expertise and craftmanship that make G-S your one stop for successful project.

G-S can provide expert installation and design assistance.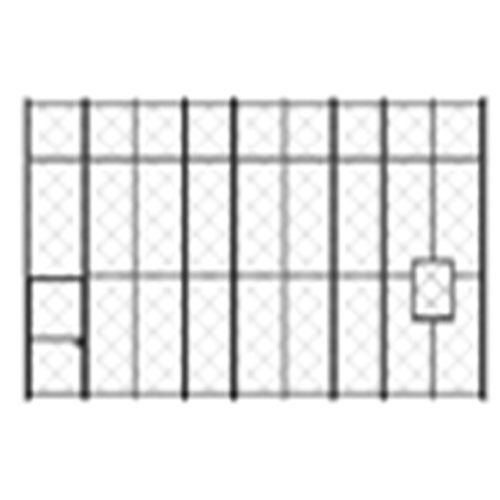 Standard Duty - 1 1/2 Inch No 10 GA Sure Guard™
Standard-Duty Wire Mesh Partition - Ceiling Anchorage 1
Standard-Duty Wire Mesh Partition - Ceiling Anchorage 2
Standard-Duty Wire Mesh Partition - Corner Post Connection
Standard-Duty Wire Mesh Partition - Doubel Door
Standard-Duty Wire Mesh Partition - Dutch Door
Standard-Duty Wire Mesh Partition - Hinge Door
Standard-Duty Wire Mesh Partition - Line Post Bracing Connection
Standard-Duty Wire Mesh Partition - Multiple Height Panel Connection
Standard-Duty Wire Mesh Partition - Multiple Panel Height Connection Without Shoe
Standard-Duty Wire Mesh Partition - Multiple Panel Height Partition
Standard-Duty Wire Mesh Partition - Offset Angle
Standard-Duty Wire Mesh Partition - Pipe Post Connection
Standard-Duty Wire Mesh Partition - Section Thru Dutch Door
Standard-Duty Wire Mesh Partition - Section Thru Standard-Duty Hinged Door
Standard-Duty Wire Mesh Partition - Section Thru Standard-Duty Low Partition
Standard-Duty Wire Mesh Partition - Section Thru Standard-Duty Low Partition With Shoe At Top
Standard-Duty Wire Mesh Partition - Section Thru Standard-Duty Slide Door
Standard-Duty Wire Mesh Partition - Section Thru Standard-Duty Slide Wicket
Standard-Duty Wire Mesh Partition - Single Height Panel Connection
Standard-Duty Wire Mesh Partition - Single Panel Height Connection Without Shoe
Standard-Duty Wire Mesh Partition - Slide Gate
Standard-Duty Wire Mesh Partition - Three Way Clip
Standard-Duty Wire Mesh Partition - Three Way Connection With Tube
Standard-Duty Wire Mesh Partition - Tube Connection
Standard-Duty Wire Mesh Partition - Wall Clip Connection
Standard-Duty Wire Mesh Partition - Wicket With Shelf
All Available 2D CAD Files
All Available BIM and 3D Files
All Available Specifications