VersaMax 2.0 Sliding ICU Door
ASSA ABLOY VersaMax 2.0 Standard sliding ICU door - precisely engineered for the future of healthcare
Optimized for better aesthetics and performance, the ASSA ABLOY VersaMax 2.0 ICU/CCU Standard sliding ICU door system offers superior patient privacy while maximizing clear door openings to help you meet the demanding requirements of patient and equipment transportation.
Flush Bolt-Free breakout technology
ICU door trackless systems have historically required flush bolts to facilitate breakout for bed, equipment, and patient transport. This requires several steps and training of personnel for the use of the flush bolt. With the ASSA ABLOY VersaMax 2.0 ICU door patent pending flush bolt-free design, you simply slide the door to full open and conveniently swing the door to a breakout position.
InteGlass™ e-glass platform
Engineered for next-generation ICU/CCU environments, the ASSA ABLOY VersaMax 2.0 Standard sliding ICU door is available with our optional InteGlass feature. Designed for electronic glass panels, InteGlass is seamlessly integrated within the ASSA ABLOY VersaMax 2.0 ICU door and header using UL listed components. This platform supports a variety of electro-static privacy glass systems, which provides higher levels of patient privacy, staff convenience, and infection control.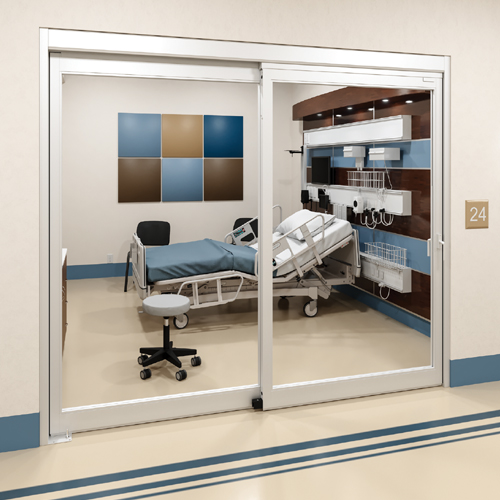 VersaMax OHC FBO Single Slide Narrow
VersaMax OHC FBO Single Slide Narrow Smoke Rated
VersaMax OHC FBO Bi Part Narrow
VersaMax OHC FBO Bi Part Narrow Smoke Rated
VersaMax OHC FSL Single Slide Narrow
VersaMax OHC FSL Single Slide Narrow Smoke Rated
VersaMax OHC FSL Bi Part Narrow Smoke Rated
VersaMax SA FBO Single Slide Narrow
VersaMax SA FBO Single Slide Narrow Smoke Rated
VersaMax SA FBO Bi Part Narrow
VersaMax SA FBO Bi Part Narrow Smoke Rated
VersaMax OHC FSL Bi Part Narrow
All Available 2D CAD Files
All Available BIM and 3D Files
All Available Specifications