400TU High Performance Thermal Curtainwall
Tubelite's highest thermally broken curtainwall product has been designed to meet or exceed today's stringent energy codes. The 400TU Series has a 2-1/2" face, and offers screw-spline or shear clip assembly. The pressure bar system can be stick fabricated, or assembled into "ladders" at your shop for field glazing.
The dual thermal strut decreases U-Factors and increases CRF significantly over many current thermal barrier systems. Glass is positioned to the system exterior for enhanced resistance to rainwater. 400TU also accepts accessories like Tubelite Operable Windows, Therml=Block® Doors, aLuminate® light shelves and Maxblock Sunshades.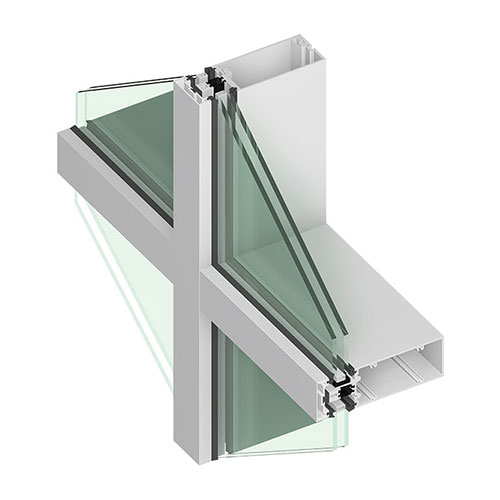 400TU 1 3/4" Triple Glazed - 6 ¾" Aluminum Pressure Plate
400TU 1 3/4" Triple Glazed - 8 ¼" Aluminum Pressure Plate
400TU 1 3/4" Triple Glazed - 10 ¾" Aluminum Pressure Plate
400TU 1 3/4" Triple Glazed - 6 ¾" Polyamide Pressure Plate
400TU 1 3/4" Triple Glazed - 8 ¼" Polyamide Pressure Plate
400TU 1 3/4" Triple Glazed - 10 ¾" Polyamide Pressure Plate
400TU 1" Dual Glazed - 7 ½" Aluminum Pressure Plate
400TU 1" Dual Glazed - 6" Aluminum Pressure Plate
400TU 1" Dual Glazed - 10" Aluminum Pressure Plate
400TU 1" Dual Glazed - 6" Polyamide Pressure Plate
400TU 1" Dual Glazed - 7 ½" Polyamide Pressure Plate
400TU 1" Dual Glazed - 10" Polyamide Pressure Plate
All Available 2D CAD Files
All Available BIM and 3D Files
All Available Specifications