BORCON Planters
BORCON is a unique metal composition designed to give an aesthetic rust look. It is a beautiful material and is being used in residential and commercial properties for its warm, weathered and lasting natural look.
Because of its unique "natural" and long lasting finish, BORCON will become the preferred alternative to current metal edging products such as galvanized steel, aluminum, plastic and / or powdered coated.
Ideally suited for commercial and residential properties that desire a natural and rustic patina look and feel to their landscape design or in high corrosion environments. BORCON naturally patinas forming its own beautiful and natural protective coating leading to over 5X the longevity of normal steel. BORCON's natural finish provides an environmentally friendly, low maintenance, warm and industrial look.
BORCON's steel weathering properties has increased resistance to atmospheric corrosion in comparison with other steels. pH Factors that destroy aluminum are not.
This is due to the protective layer the steel forms on its surface under the influence of the weather.
By forming a patina film of dark brown oxidation BORCON Weathering Steel successfully resists the corrosive effects of weather conditions such as rain, snow, ice and fog.
In this way, the protective layer prohibits deeper penetration of the elements and eliminates the need for painting and the expense of rust-prevention maintenance over the years, saving both money
and time.
Steel Edging

Tree Rings and Squares

Planters

Planter Bed Support

Paver Restraints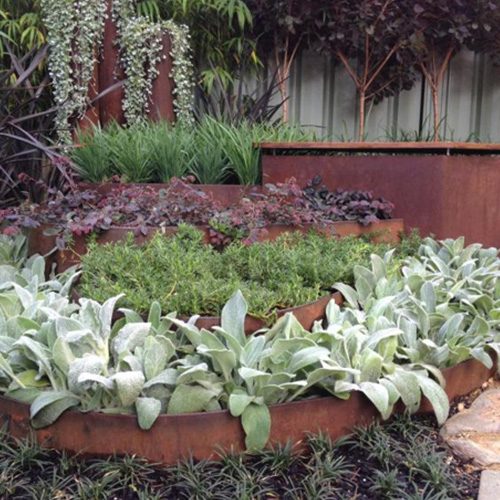 BORCON Planters: 24" x 48" x 18"
BORCON Planters: 30" x 60" x 18"
BORCON Planters: 15" x 33" x 15"
BORCON Planters: 20" x 20" x 15"
BORCON Planters: 60" x 72"
All Available 2D CAD Files