Aegis Shade Structure
The Aegis is supported by our patent-pending Datum Arm design. The Aegis is a strong and aesthetically appealing product that is sure to impress even the most critical of eyes. From the structural components to the finish of the paint, this canopy is fully finished and crafted to perfection. The Aegis canopy can also incorporate fabric as the body component in order to add more color and creativity to your project.
Architecturally, the Aegis metal canopy product has smooth lines and is designed to prevent bowing from end to end. The body of the unit can be fabricated from multiple options (as shown below) providing either shade only, all weather protection or a combination of the two. Because each of the body options are fully painted aluminum components, corrosion will never be an issue. When the weatherproof self-mating pan option is chosen, a water tight connection between the structural framing and pan is obtained by using #12 stainless steel self-drilling screw with a bonded rubber washer.
Structurally, the Aegis hanger arm canopy is fully welded and utilizes all 6061-T6 high strength aluminum alloy. Each arm attaches to a 3" square x 1/4" thick tube that is welded to the structural fascia, which supports the rest of the canopy. Available as either static or adjustable, the arms are 1.9" O.D. (or 2.375" for larger/high load structures) Sch.40 aluminum pipe with custom milled ends (also 6061 T-6 aluminum alloy).
As you can tell, each Datum Metal Canopy is designed and fabricated with exacting standards for quality and craftsmanship. Thus, as a standard, each canopy is fully painted (after fabrication & assembly) with a polyester powder designed to meet the performance criteria of the AAMA 2604 coating specification. Higher qualifications & premium coatings are also available.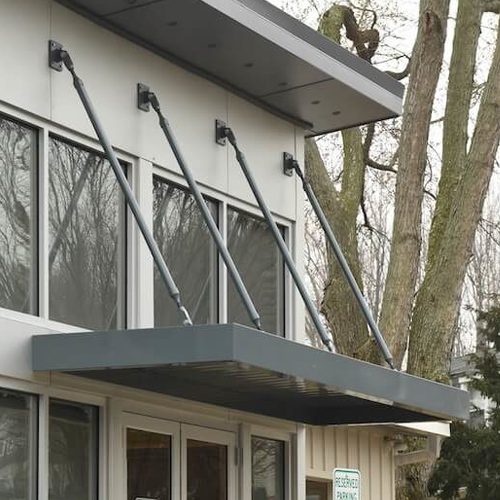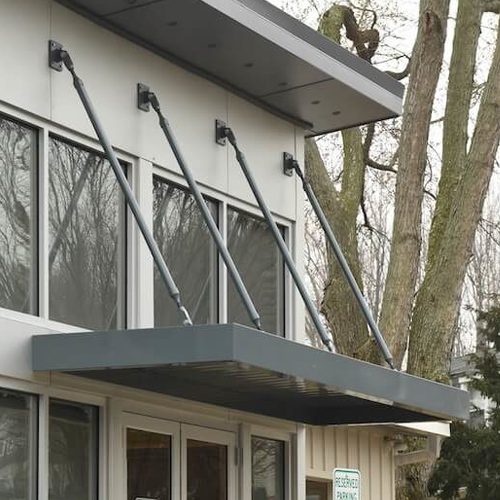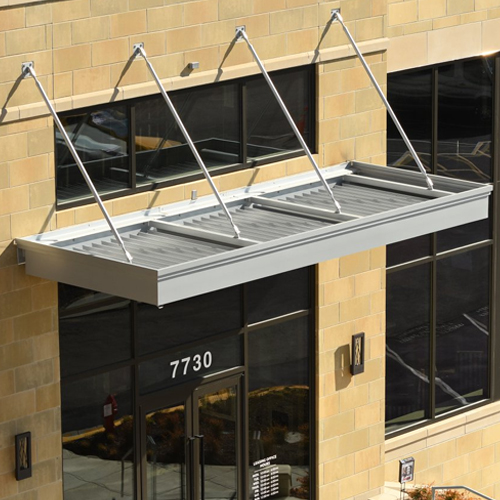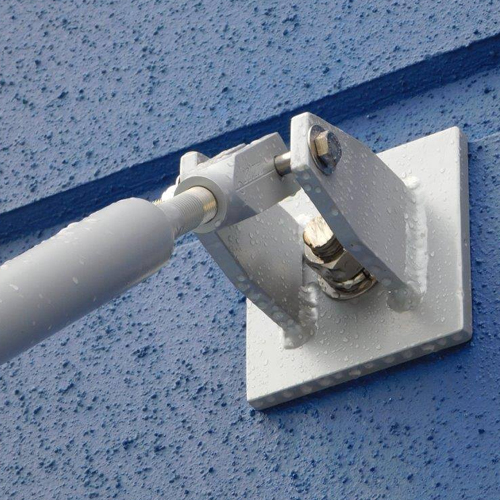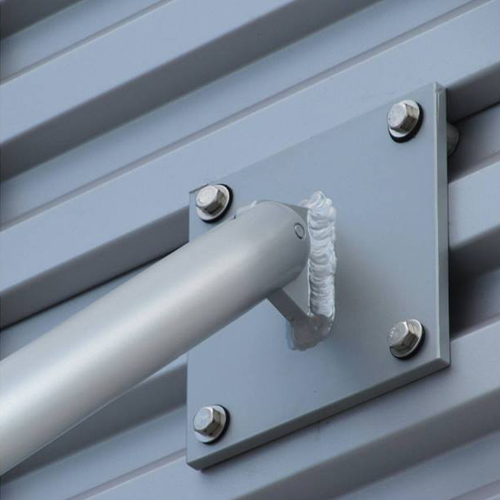 Aegis Pans: Hanger Arm Canopy - Isometric View
Aegis Pans: Hanger Arm Canopy - Front View
Aegis Pans: Hanger Arm Canopy - Side Section
Aegis Pans: Hanger Arm Canopy - Details
Aegis Hybrid: Hanger Arm Canopy - Isometric View
Aegis Hybrid: Hanger Arm Canopy - Front View
Aegis Hybrid: Hanger Arm Canopy - Side Section
Aegis Hybrid: Hanger Arm Canopy - Detail A
Aegis Hybrid: Hanger Arm Canopy - Detail B
All Available 2D CAD Files
All Available BIM and 3D Files
All Available Specifications