Stainless Steel Step-In Animal Bathtub with Hair Catching Drain System
Step-in tubs are deeper from tub rim to tub bottom than standard tubs, so the tub bottom is closer to the floor. A lift-out door allows pets to step directly into the tub. These tubs include our patented Hair Catching System*. They are 24" or 27" front to back, and 48", 52" or 60" in length. *US Patent 7080608
These versatile 14-gauge stainless steel, fully welded tubs will comfortably accommodate any breed of dog from giants to miniatures.
The built-in, high-capacity Hair Catching System* on these step-in tub models helps keep pet hair out of drains. This patented design is built into the tub model at the time of construction, and consists of an integral drain trough the entire width (front to back) of the tub on the drain end, with a lift-out stainless steel fine-mesh basket that screens hair and debris out of drain. Special tuck-under feature ensures ALL water must flow through the Hair Catching Basket before going down the drain. *US Patent 7080608
The extra-wide door opening is close enough to the floor in these deep tubs that larger dogs can simply step in. A very sturdy stainless steel Canine Step Stool (sold separately) with a non-slip surface is also available, to give older dogs and dogs with physical disabilities an extra assist into the tub.

The Elevating Platform System**(sold separately) makes it easy to bathe smaller animals. Simply lift the platform, turn it 90 degrees and put it in place to position your pet at a level comfortable for both of you. The elevated platforms can also serve as a drying/brushing station. **US Patent 8220417
And there will be no down time with these tubs because they don't wear out – ever!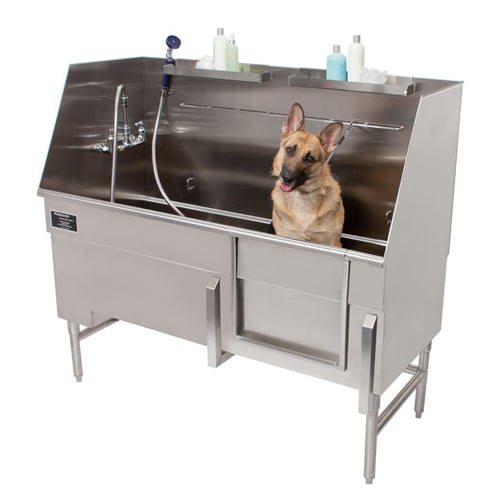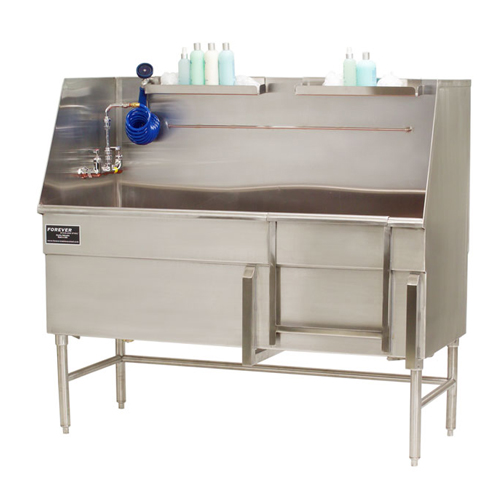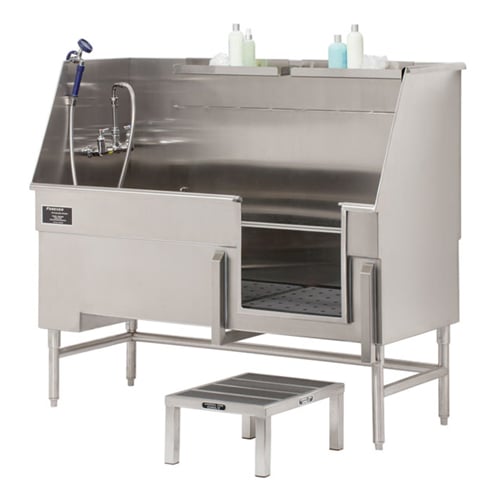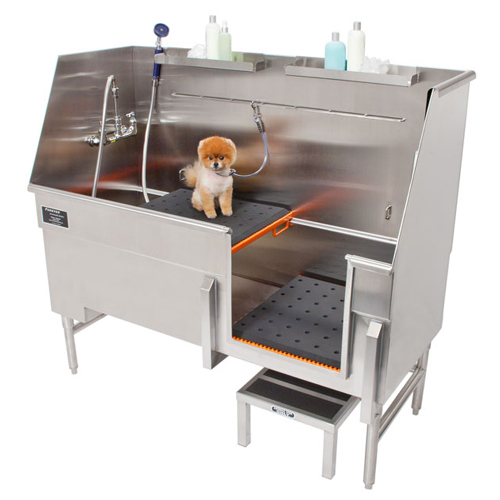 Step-In Tub with Hair Catching System: 48" x 24" Stainless Steel Step-In Animal Bathtub with Hair Catching Drain System - Left Drain (W48HT-LH) - Detail 1
Step-In Tub with Hair Catching System: 48" x 24" Stainless Steel Step-In Animal Bathtub with Hair Catching Drain System - Left Drain (W48HT-LH) - Detail 2
Step-In Tub with Hair Catching System: 48" x 24" Stainless Steel Step-In Animal Bathtub with Hair Catching Drain System - Right Drain (W48HT-RH) - Detail 1
Step-In Tub with Hair Catching System: 48" x 24" Stainless Steel Step-In Animal Bathtub with Hair Catching Drain System - Right Drain (W48HT-RH) - Detail 2
Step-In Tub with Hair Catching System: 52" x 24" Stainless Steel Step-In Animal Bathtub with Hair Catching Drain System / Pump Recess - Left Drain (W52HTY-LH) - Detail 1
Step-In Tub with Hair Catching System: 52" x 24" Stainless Steel Step-In Animal Bathtub with Hair Catching Drain System / Pump Recess - Left Drain (W52HTY-LH) - Detail 2
Step-In Tub with Hair Catching System: 52" x 24" Stainless Steel Step-In Animal Bathtub with Hair Catching Drain System / Pump Recess - Right Drain (W52HTY-RH) - Detail 1
Step-In Tub with Hair Catching System: 52" x 24" Stainless Steel Step-In Animal Bathtub with Hair Catching Drain System / Pump Recess - Right Drain (W52HTY-RH) - Detail 2
Step-In Tub with Hair Catching System: 60" x 27" Stainless Steel Step-In Animal Bathtub with Hair Catching Drain System / Internal Well - Left Drain (W60HTY-LH) - Detail 1
Step-In Tub with Hair Catching System: 60" x 27" Stainless Steel Step-In Animal Bathtub with Hair Catching Drain System / Internal Well - Left Drain (W60HTY-LH) - Detail 2
Step-In Tub with Hair Catching System: 60" x 27" Stainless Steel Step-In Animal Bathtub with Hair Catching Drain System / Internal Well - Right Drain (W60HTY-RH) - Detail 1
Step-In Tub with Hair Catching System: 60" x 27" Stainless Steel Step-In Animal Bathtub with Hair Catching Drain System / Internal Well - Right Drain (W60HTY-RH) - Detail 2
Accessories: Hair Catching System
Accessories: Elevating Platform with Comfort Mat
Bathtub Hoses: Stainless Steel Deluxe Plus Fixture Package
Bathtub Hoses: Stainless Steel Lightweight Deluxe Plus Fixture Package
Bathtub Hoses: Stainless Steel Quality Fixture Package
Bathtub Hoses: Lightweight Quality Fixture Package
All Available 2D CAD Files