Wall Trellis Systems: System Bern, System Geneva, System Zürich
Modular trellis systems —rigid lightweight panels—are installed vertically as either wall-mounted or freestanding systems. They can be used on tall buildings in conjunction with intermediate planters or on rooftops. These planters may be required where the growth of climbing plants is physically restricted.
Freestanding structures, such as green columns or canopy tree forms made of rigid panels, can be placed on either urban streets or rooftops where space is limited or weight is restricted. The panels can also be used in horizontal applications such as arbors or as shading devices over the upper level of a parking deck.
Cable and rope wire systems consist of a kit of parts that includes high-tensile steel cables, wire trellises, anchors, spacers, and supplementary equipment. Vertical and horizontal wires can be connected through cross clamps to form a flexible trellis system in various sizes and patterns. To cover large areas, stainless steel wire-rope nets can be supported on flexible or rigid frames.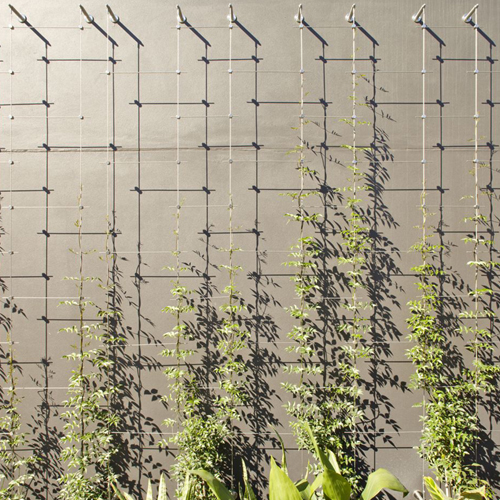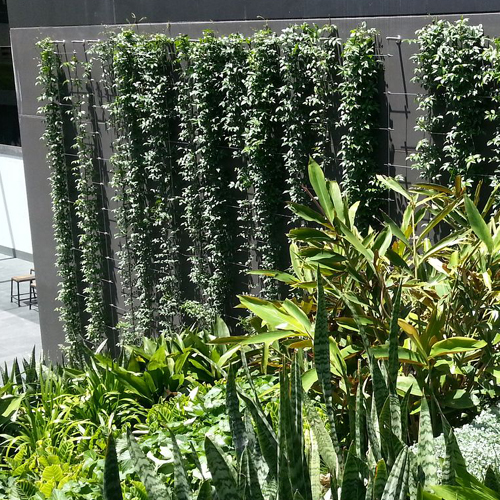 Wall Trellis Systems: System Bern, Vertical Cables with Horizontal Rod - Details
Wall Trellis Systems: System Bern, Vertical Cables with Horizontal Rod
Wall Trellis Systems: System Geneva, Vertical Cables with Horizontal Rod
Wall Trellis Systems: System Geneva, Vertical Cables with Horizontal Rod - Details
Wall Trellis Systems: System Zürich, Vertical Cables with Horizontal Rod
Wall Trellis Systems: System Zürich, Vertical Cables with Horizontal Rod - Details
All Available 2D CAD Files
All Available BIM and 3D Files