WoodCarpet® for Dog Parks, Dog Runs, and Dog Agility Areas
As a cost-effective engineered wood fiber known for its ability to absorb high impacts, as well as excellent slip resistance and accessibility, our WoodCarpet® system makes an excellent playground base. Three different WoodCarpet® systems are available for a wide range of protective surface needs. We also offer a WoodCarpet® Bonded 1 system designed for easy installation over a gravel base.
8-12 inches of WoodCarpet® combined with 3-4 inches of gravel and our Duraliner® fabric make this the most affordable system that we offer. Because of kick-out under equipment we recommend 8" thickness for equipment 4ft. and under and 12? thickness for equipment over 4 ft. Install a drainage system below your Woodcarpet® to extend the life of your surfacing.



The perfect solution to those neglected walkways and trails. WoodCarpet® Bonded 1 is your most cost-efficient answer to easily creating flexible, natural, pervious walkways that offer excellent access, low maintenance and eco-friendly nature trails. Offering environmental advantages over traditional alternatives, this Zeager exclusive is becoming the preferred walkscape where aesthetics and low costs are a must!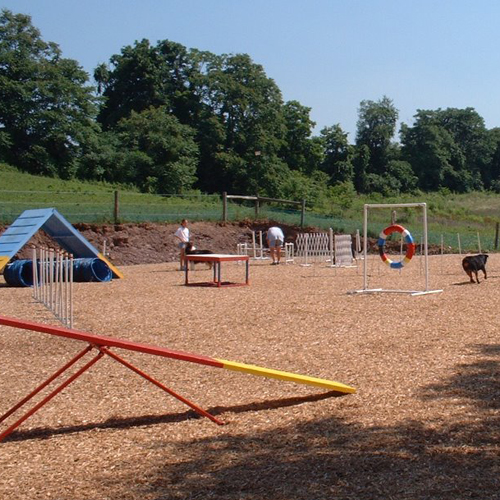 WoodCarpet® for Dog Parks, Dog Runs, and Dog Agility Areas - Detail (Sheet 1 of 2)
WoodCarpet® for Dog Parks, Dog Runs, and Dog Agility Areas - Installation Instructions (Sheet 2 of 2)
All Available 2D CAD Files
All Available Specifications