Jerith® Ornamental Fence
Jerith Ornamental Wire and Aluminum Fences offer an attractive solution to fencing without the maintenance. They are available in a wide variety of styles, colors, and heights.
Jerith Aluminum Fencing offers the attractiveness and protection of traditional wrought iron fencing without the maintenance. It is constructed of HS-35™, a high-strength aluminum alloy with the strength of steel, that will never rust, even in coastal areas or around swimming pools. Jerith fences also have a durable powder coat finish guaranteed not to crack, chip, or peel. If you want a durable, beautiful fence that you don't have to work to maintain, Jerith ornamental fences are for you!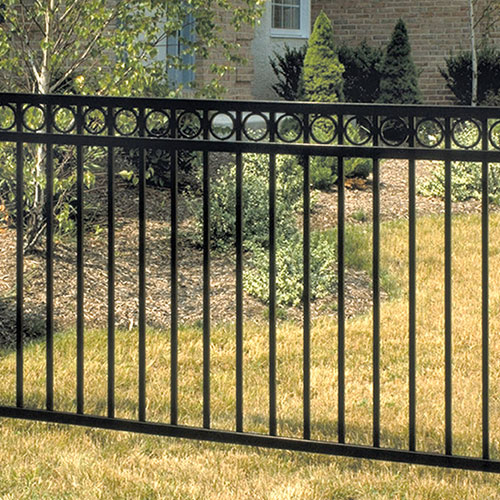 Jerith® Patriot™ Ornamental Wire Fence, 2 Gauge
Jerith® Patriot™ Ornamental Wire Fence, 4 Gauge
Jerith® Patriot™ Ornamental Wire Fence, 6 Gauge
Jerith® Industrial Fence Style 101
Jerith® Industrial Fence Style 111
Jerith® Industrial Fence Style 202
Jerith® Regency Buckingham Fence
Jerith® Regency Buckingham Plus Fence
Jerith® Regency Kensington Fence
Jerith® Regency Kensington Plus Fence
Jerith® Regency Windsor Fence
Jerith® Regency Windsor Plus Fence
Jerith® Regency Canterbury Fence
All Available 2D CAD Files
All Available Specifications