RB 500+ Motorized Series Roller Shades
Product engineers at Hunter Douglas Architectural took a fresh look at roller shades, taking the best from decades of experience to create the RB 500+ system. Features to solve tricky conditions, ensure smooth and quiet operation, and lift oversize shades with motorized, chain or crank operators. Plus, a few hundred fabric choices.
The key feature of the RB 500+ roller shade system is its versatility, with components to support motorized, chain- and crank-driven mechanisms. Perfect for commercial applications, this modular system allows installation in a wide range of shade sizes and positions.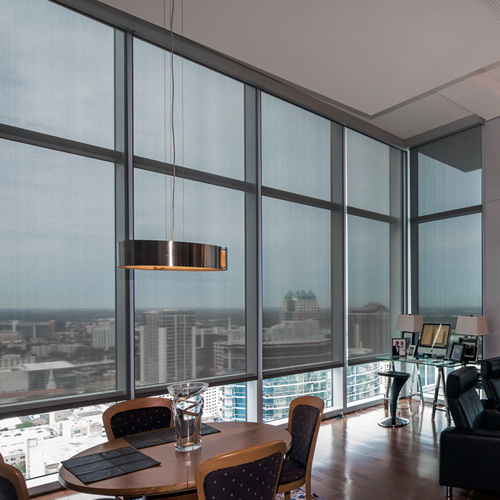 Heavy Duty Automated: 4IN Fascia Bracket – Ceiling Mount
Heavy Duty Automated: 4IN Fascia Bracket – Face Mount
Heavy Duty Automated: 4IN Fascia Bracket – Inside Mount
Heavy Duty Automated: 4IN Fascia Bracket – Wall Mount
Heavy Duty Automated: 4IN Blockout Bracket – Ceiling Mount
Heavy Duty Automated: 4IN Blockout Bracket – Face Mount
Heavy Duty Automated: 4IN Blockout Bracket – Inside Mount
Heavy Duty Automated: 4IN Blockout Bracket – Wall Mount
Heavy Duty Automated: 55L Brackets – Surface Pocket
Heavy Duty Automated: 55L Brackets – Tile Pocket
Heavy Duty Automated: 55L Brackets – Gypsum Wallboard Pocket
Heavy Duty Automated: 55L Brackets – Ceiling Mount
Heavy Duty Automated: 55L Brackets – Face Mount
Heavy Duty Automated: 55L Brackets – Inside Mount
Heavy Duty Automated: 55L Brackets – Wall Mount
Heavy Duty Automated: 75L Brackets – Gypsum Wallboard Pocket
Heavy Duty Automated: 75L Brackets – Ceiling Mount
Heavy Duty Automated: 75L Brackets – Face Mount
Heavy Duty Automated: 75L Brackets – Inside Mount
Heavy Duty Automated: 75L Brackets – Wall Mount
Heavy Duty Automated: 7IN Dual UM Bracket – Surface Pocket
Heavy Duty Automated: 7IN Dual UM Bracket – Tile Pocket
Heavy Duty Automated: 7IN Dual UM Bracket – Gypsum Wallboard Pocket
Heavy Duty Automated: 7IN Dual UM Bracket – Ceiling Mount
Heavy Duty Automated: 7IN Dual UM Bracket – Face Mount
Heavy Duty Automated: 7IN Dual UM Bracket – Wall Mount
Heavy Duty Automated: 9IN Dual UM Bracket – Surface Pocket
Heavy Duty Automated: 9IN Dual UM Bracket – Tile Pocket
Heavy Duty Automated: 9IN Dual UM Bracket – Gypsum Wallboard Pocket
All Available BIM and 3D Files
All Available Specifications