Split Face Wall System
Split face block is a type of concrete masonry unit (cmu) used in decorative wall building. Each split face block has a rugged rocky texture that is appealing where a natural look is desired. As an attractive alternative to plain concrete block, split face blocks mimic the design of Richardsonian Romanesque as well as of medieval architecture.
To create this rock wall appearance, the concrete block is split during production. By forming one larger block and splitting it into two later, the split face technique has two main steps: forming and splitting. When the block is split, the internal aggregates are shown in detail and the natural lines of those concrete aggregates offer a rough finish similar to quarried stone.
The splitting process is less labor intensive than other cmu manufacturing processes because it does not require glazing, polishing, scoring or fluting. Additions to concrete split face blocks can create artistic representations in the form of simple geometric renderings when installed. The topographical appearance of the concrete split face block allows the shadows on a building to create a changing visual as the sun moves throughout the day.
Concrete split face block cmu does have a few drawbacks. It can generally not be colored or further changed after installation. Furthermore, installation is time consuming, and masons often charge extra fees for additional care in laying the block. As split face block is currently used primarily commercially, it is not an effective concrete masonry unit (CMU) for residential areas.
An excellent alternative to split face concrete block are designer fences, which have the same positive qualities as split face block including aesthetic appeal, stability, weather resistance and durability. Plus, precast concrete can be installed quickly and can be colored in a variety of natural tones.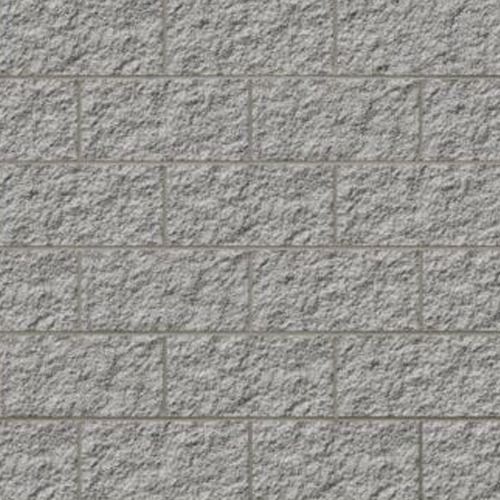 6 Ft. Split Face Block Wall System Elevation
8 Ft. Split Face Block Wall System Elevation
12 Ft. Split Face Block Wall System Elevation
12 Ft. Split Face Block Wall Panel / Column Elevation
All Available 2D CAD Files