Air Barriers
Uncontrolled air leakage through the building envelope will affect the performance of the building materials within the wall assembly. You've made a major investment in your facilities and that investment deserves the very best protection available. That very best protection is offered by the AIR-SHIELD line of air barriers from W. R. MEADOWS. The AIR-SHIELD line includes fluid-applied air barriers, sheet membranes, and vapor-permeable formulations.
New from W. R. MEADOWS comes AIR-SHIELD SMP sheet membrane vapor permeable air/liquid moisture barrier. It is a self-adhesive membrane that is designed to be fully bonded to the substrate without the use of an adhesive or primer, saving time and money by removing this additional step. AIR-SHIELD SMP is tough, durable, and exhibits excellent resistance to air leakage and liquid intrusion, while at the same time allowing the wall assembly to dry through its vapor permeable material.
AIR-SHIELD SMP has been specifically formulated to act as an air and liquid moisture barrier, allowing vapor to pass through it. It may be applied to most common surfaces and integrated into various wall assemblies. AIR-SHIELD SMP is suitable for both new construction and retrofit applications and works equally well as an air barrier on precast concrete, cast-in-place concrete, masonry (concrete block), interior and exterior gypsum board, Styrofoam, primed steel, aluminum mill finish, anodized aluminum, primed galvanized metal, drywall, and plywood.
AIR-SHIELD SMP can be left exposed to UV rays for up to 90 days. It can be installed in a wide range of temperatures from 14° – 140° F (-10° – 60° C). AIR-SHIELD SMP offers a controlled thickness membrane that is highly flexible with the ability to bridge cracks.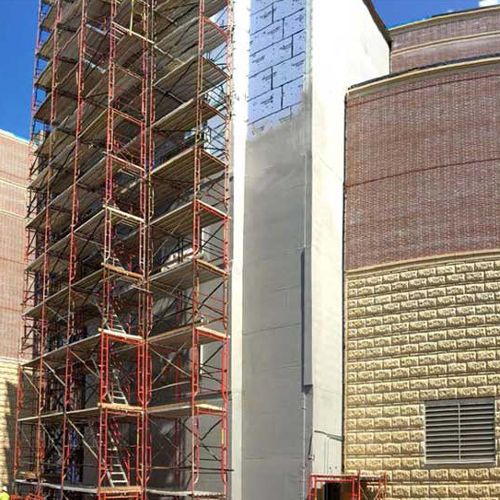 Air-Shield LMP Or TMP LGMF Window Sill (Exterior Brick Wall) (No Insulation)
Air-Shield LMP Or TMP LGMF Wall Penetration (Exterior Brick Wall) (No Insulation)
Air-Shield LMP Or TMP LGMF Wall Base Below Grade (Exterior Brick Wall) (No Insulation)
Air-Shield LMP Or TMP LGMF Wall Base Above Grade (Exterior Brick Wall) (No Insulation)
Air-Shield LMP Or TMP LGMF Roof Tie-in @ Parapet (Exterior Brick Wall) (No Insulation)
Air-Shield LMP Or TMP LGMF Loose Lintel Window Head (Exterior Brick Wall) (No Insulation)
Air-Shield LMP Or TMP LGMF Internal Corner (No Air-shield Strip) (Bem) (Exterior Brick Wall) (No Insulation)
Air-Shield LMP Or TMP LGMF Internal & External Corner (Exterior Brick Wall) (No Insulation)
Air-Shield LMP Or TMP LGMF Hung Lintel Window Head (Exterior Brick Wall) (No Insulation)
Air-Shield LMP Or TMP LGMF Deflection Joint (Exterior Brick Wall) (No Insulation)
Air-Shield LMP Or TMP LGMF Control Joint (Exterior Brick Wall) (No Insulation)
Air-Shield LGMF Window Sill (Exterior Brick Wall) (Insulation)
Air-Shield LGMF Wall Penetration (Exterior Brick Wall) (Insulation)
Air-Shield LGMF Roof Tie-in @ Parapet (Exterior Brick Wall) (Insulation)
Air-Shield LGMF Internal Corner (Bem) (Exterior Brick Wall) (Insulation)
Air-Shield LGMF Internal & External Corner (Exterior Brick Wall) (Insulation)
Air-Shield LGMF Hung Lintel Window Head (Exterior Brick Wall) (Insulation)
Air-Shield LGMF Control Joint (Exterior Brick Wall) (Insulation)
Air-Shield LSR Or LM CMU BU Window Sill (Exterior Brick Wall) (No Insulation)
Air-Shield LSR Or LM CMU BU Window Jamb (Exterior Brick Wall) (No Insulation)
Air-Shield LSR Or LM CMU BU Loose Lintel Window Head 2 (Exterior Brick Wall) (No Insulation)
Air-Shield LMP Or TMP CMU BU Loose Lintel Window Head 2 (Exterior Brick Wall) (No Insulation)
Air-Shield LMP Or TMP CMU BU Window Jamb (Exterior Brick Wall) (No Insulation)
Air-Shield LMP Or TMP CMU BU Window Sill (Exterior Brick Wall) (No Insulation)
Air-Shield SMP CMU BU Loose Lintel Window Head (Exterior Brick Wall) (No Insulation)
Air-Shield SMP CMU BU Window Jamb (Exterior Brick Wall) (No Insulation)
Air-Shield SMP CMU BU Window Sill (Exterior Brick Wall) (No Insulation)
Air-Shield CMU BU Loose Lintel Window Head (Exterior Brick Wall) (Insulation)
Air-Shield CMU BU Window Jamb (Exterior Brick Wall) (Insulation)
Air-Shield CMU BU Window Sill (Exterior Brick Wall) (Insulation)
Air-Shield LSR Or LM LGMF Window Sill (Exterior Brick Wall) (Insulation)
Air-Shield LSR Or LM LGMF Window Jamb (Exterior Brick Wall) (Insulation)
Air-Shield LSR Or LM LGMF Loose Lintel Window Head (Exterior Brick Wall) (Insulation)
Air-Shield LSR Or LM LGMF Wall Penetration (Exterior Brick Wall) (Insulation)
Air-Shield LSR Or LM LGMF Internal Corner (No Air-Shield Strip) (BEM) (Exterior Brick Wall) (Insulation)
Air-Shield LSR Or LM LGMF Internal & External Corner (Exterior Brick Wall) (Insulation)
Air-Shield LSR Or LM LGMF Deflection Joint (Exterior Brick Wall) (Insulation)
Air-Shield LSR Or LM LGMF Control Joint (BEM Filler) (Exterior Brick Wall) (Insulation)
Air-Shield LSR Or LM LGMF Roof Tie-In @ Parapet (Exterior Brick Wall) (Insulation)
Air-Shield LSR Or LM LGMF Angled Roof Tie-In (Exterior Brick Wall) (Insulation)
Air-Shield SMP LGMF Window Sill (Exterior Brick Wall) (No Insulation)
Air-Shield SMP LGMF Window Jamb (Exterior Brick Wall) (No Insulation)
Air-Shield SMP LGMF Wall Base Below Grade (Exterior Brick Wall) (No Insulation)
Air-Shield SMP LGMF Wall Base Above Grade (Exterior Brick Wall) (No Insulation)
Air-Shield SMP LGMF Roof Tie-In @ Parapet (Exterior Brick Wall) (No Insulation)
Air-Shield SMP LGMF Relieving Angle (Exterior Brick Wall) (No Insulation)
Air-Shield SMP LGMF Loose Lintel Window Head (Exterior Brick Wall) (No Insulation)
Air-Shield SMP LGMF Internal & External Corner (Exterior Brick Wall) (No Insulation)
Air-Shield SMP LGMF BU Hung Lintel Window Head (Exterior Brick Wall) (No Insulation)
Air-Shield SMP LGMF Control Joint (Exterior Brick Wall) (No Insulation)
Air-Shield SMP LGMF Angled Roof Tie-In (Exterior Brick Wall) (No Insulation)
All Available 2D CAD Files
All Available BIM and 3D Files
All Available Specifications