PAVE-EL Multi Stacked
PAVE-EL pedestals are available in four standard model sizes and are constructed of high-density polyethylene for strength, durability, and resistance to sunlight. No special tools or skills are required to install PAVE-EL. The pedestals are backed by a 20-year warranty on materials.
PAVE-EL pedestals elevate paver stones to provide perfect drainage.
Spacer ribs included with PAVE-EL pedestals ensure even joint spacing of pavers.
PAVE-EL pedestals are easily sub-divided to support corner and edge pavers.
Through-drainage and aeration eliminates freeze-thaw damage to pavers.
1/8" plates enable perfect leveling of pavers.
Less Costly
PAVE-EL is designed for elevating paver stones to heights up to six inches. While the competitive "screw-jack" pedestals work for raising pavers more than six inches, they are over-engineered and unnecessary for lower heights – and significantly higher in price.
Easier to Install
PAVE-EL is faster and easier to install than the over-engineered competition. No special tools or lasers required. This is not only important for the initial install but as roof requires maintenance over the years.
Excellent Product with Zero Warranty Claims in Over 40 years
Durable and weather resistant, PAVE-EL has a unique through-drainage and air vent design to prevent water entrapment and freeze-thaw. PAVE-EL is self-cleaning and unaffected by ultra-violet light.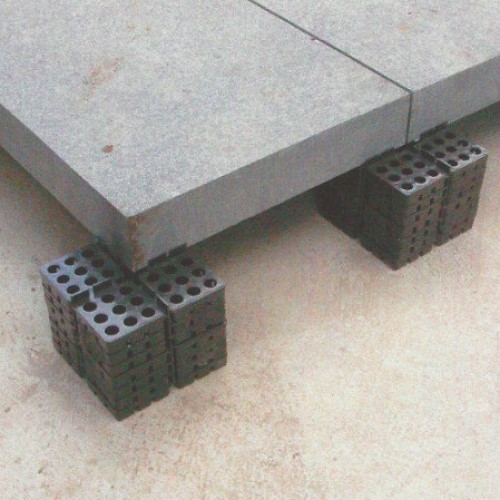 PAVE-EL On Protected Membrane
PAVE-EL On Pre-Formed Membrane
PAVE-EL On B.U.R. And Protection Board (Or Topping)
PAVE-EL On Uninsulated Roof
Plan View - Angled Or Curved Paver Conditions
Variation In Paver Thickness
Use Of Leveling Plates (Shims) & Stacked Pedestals
PAVE-EL Pedestals Corrects Slopes Up To 5%
Combining stacking of pedestals and levelling plates to achieve a desired height for pavers.
All Available 2D CAD Files
All Available BIM and 3D Files
All Available Specifications