Adjustable Pedestals and Couplers
The PVC pipe allows the pedestal system to vary in heights up to 36+ inches. The standard 1/8" spacer on the top cap allows for an open joint for water drainage and proper alignment of the pavers. In application where low heights from ½" to 2' high is needed, the Stack-Cap can be used and also include slope compensation for a level paver surface. Additional top shims are also available for fine height adjustments and corner leveling.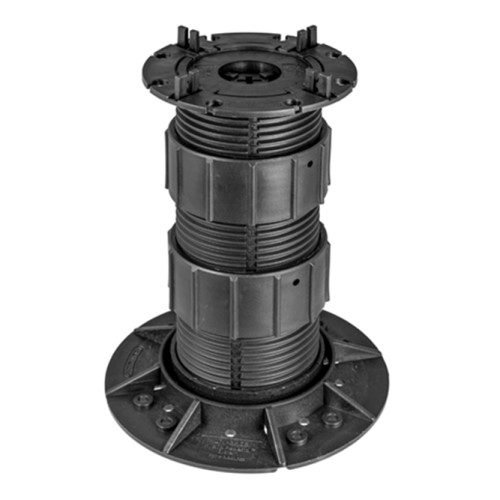 IPE Wood Tiles Details: 20" x 20" x 1-1/2"
WIND-LOC™ Paver & Pedestal Application: Paver Lock Down System Details, Plan and Profile View
STAK-CAP™ Pedestal Instructions: Installation Instructions - 1/2" to 12" High & 0%-3% Slope
HEX-TRAY™ Porcelain Paver Tray: Wind-Uplift & Snow Melt
Step-Down Pedestal Application: Section Details
IPE Wood Tiles Details: 24" x 24" x 1-5/8"
Adjustable Pedestals: Hybrid Pedestals™ UNI-ADJUST™/ Multi-Height (2" to 36")
UNI-JUST™ Pedestal Instructions: Component Assembly Instructions
Tile Tech Pedestal System: Complete Product Line
UNI-JUST™ Pedestal System: Height Adjustment From 2-1/4" To 22" & Slope Adjustment From 0% TO 6%
STAK-CAP™ Pedestal System: Height Adjustment From 1/2" TO 6" Slope Adjustment From 0% To 5%
Adjustable Pedestals: Hybrid Pedestals™ STAK-CAP™ / Low-Height (1/2" to 2")
UNI-SHIM™ Application: 1/8" & 1/16" Rigid Shims Used On Top And Under Pedestal
Joist Deck & Pedestal Application: Joist Deck Installation Details & Spanning Chart
Sample Deck Layout: Overview of Pedestal Placement
Wood Tile & Pedestal Application: Transition, Alignment & Lock Down Details
Sample Initial Installation: Using "T" Shaped Pattern
Threshold Pedestal Application: Enlarged Plan View & Section Details
Radius Pedestal Application: Enlarged Plan View & Section Details
Corner Pedestal Application: Enlarged Plan View & Section Details
Diagonal Perimeter Application: Enlarged Plan View & Section Details
Drain Pedestal Application: Enlarged Plan View & Section Details
Low Height Pedestal Application: Enlarged Plan View & Section Details
Perimeter Edge Restraint Options: Metal Flashing & Wood Fascia Containment Details
Perimeter Edge Restraint Options: Step Down & Green Roof Containment Details
STAK-CAP™ and UNI-JUST™ Pedestals: Sample Pedestal Configuration & Combination Compensation From 1/2" to 22" High and 0% to 6% Slope
All Available BIM and 3D Files
All Available Specifications