Stainless Steel Bollard Cover
Most stainless steel bollards are actually stainless steel covers that go over regular steel bollards. The strength of a bollard is mainly a function of its mass: diameter, wall thickness and how deep the bollard is buried. So in nearly all cases, bollards are made of regular (or galvanized) steel, with stainless steel covers. If your underlying bollard is made of a different material, please let us know in your quote request. Click this if you are looking for Stainless Steel Bollards. For covers, continue here.
These are short samples of the 3 types of covers we carry. These show 8" nominal diameter in flat, dome and slant top, #4 brushed finish, which attach by 4 set screws near the bottom. We normally have the quote back within 1 - 2 business days.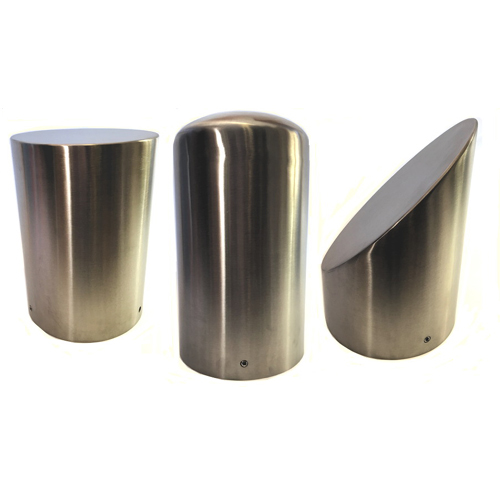 Stainless Steel Bollard Covers: 4" Diameter
Stainless Steel Bollard Covers: 5" Diameter
Stainless Steel Bollard Covers: 6" Diameter
Stainless Steel Bollard Covers: 8" Diameter
Stainless Steel Bollard Covers: 10" Diameter
Stainless Steel Bollard Covers: 12" Diameter
All Available 2D CAD Files
All Available Specifications