Wind-Tite®
This warehouse door is available for custom wind load designs

Internal hood baffle prevents weather infiltration through the header

Our bay doors have torsion spring counterbalance assembly

Wind-Tite® loading dock overhead doors include full perimeter weather stripping

Ideal for specialty projects requiring doors up to and exceeding 60'0" in width
Functional Benefits:
2.75" flat slats available in 22ga minimum with options for 20, 18 or 16, gauges.
Strong and effective against high wind loads. Consult factory for capacity.
Doors can be manual push up, hand crank, hand chain or motor operated. All operators can be adapted to specific conditions.
Provides protection against high wind, water penetration and other inclement weather conditions.
Can be installed on the interior, exterior, face of wall or between jambs.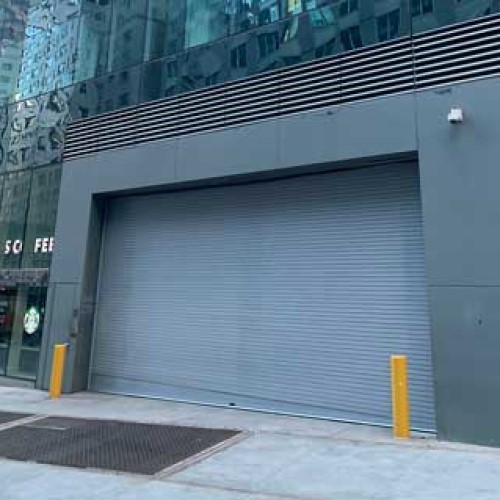 Wind-Tite® Face Mounted to Masonry: Manual Push-Up Operation
Wind-Tite® Face Mounted to Masonry: Hand Chain Operation
Wind-Tite® Face Mounted to Masonry: Hand Crank Operation
Wind-Tite® Face Mounted to Masonry: Motor Operation
Wind-Tite® Face Mounted to Steel: Manual Push-Up Operation
Wind-Tite® Face Mounted to Steel: Hand Chain Operation
Wind-Tite® Face Mounted to Steel: Hand Crank Operation
Wind-Tite® Face Mounted to Steel: Motor Operation
Wind-Tite® Between Jamb Mounted (Packout): Manual Push-Up Operation
Wind-Tite® Between Jamb Mounted (Packout): Hand Chain Operation
Wind-Tite® Between Jamb Mounted (Packout): Hand Crank Operation
Wind-Tite® Between Jamb Mounted (Packout): Motor Operation
Wind-Tite® Between Tube Mounted: Manual Push-Up Operation
Wind-Tite® Between Tube Mounted: Hand Chain Operation
Wind-Tite® Between Tube Mounted: Hand Crank Operation
Wind-Tite® Between Tube Mounted: Motor Operation
All Available Specifications