E-Series™
Storefront security doors provide against riots, theft and vandalism

Alpine's optional Riot-Lock™ System prevents curtain from being ripped from guides

E-Series™ Rolling Service Doors are a high quality, low cost security space saving solution

This model can be combined with a grille section, or have fenestrated slats that allows a viewing area while maintaining security

Torsion spring counterbalanced
Functional Benefits:
4.0" curved slats
Strong and cost effective with contoured slats.
Heavy duty construction design.
Riot control options include structural guides with riot-resistant wedge bar, and upgraded curtain with our Serv-Dawn model (up to 16 gauge), and Alpine's Riot-Lock™ advanced locking system provide continuous locks that protect each slat individually.
Doors can be manual push up, hand crank, hand chain or motor operated. All operators can be adapted to specific conditions.
Ideal for security applications such as sally ports, parking lot entries, or other areas that do not require thermal values.
Can be installed on the interior, exterior, face of wall or between jambs.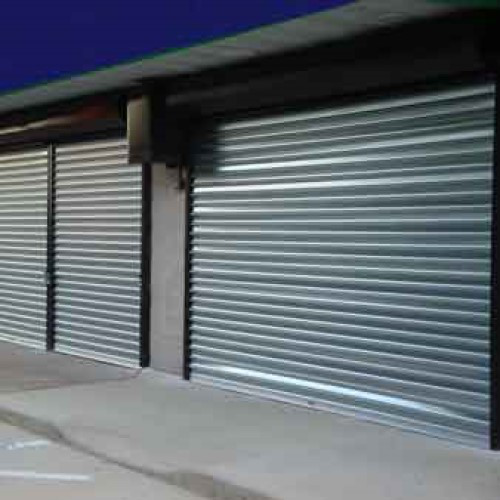 E-Series™ Face Mounted to Masonry: Manual Push-Up Operation
E-Series™ Face Mounted to Masonry: Hand Chain Operation
E-Series™ Face Mounted to Masonry: Hand Crank Operation
E-Series™ Face Mounted to Masonry: Motor Operation
E-Series™ Face Mounted to Steel: Manual Push-Up Operation
E-Series™ Face Mounted to Steel: Hand Chain Operation
E-Series™ Face Mounted to Steel: Hand Crank Operation
E-Series™ Face Mounted to Steel: Motor Operation
E-Series™ Between Jamb Mounted (Packout): Manual Push-Up Operation
E-Series™ Between Jamb Mounted (Packout): Hand Chain Operation
E-Series™ Between Jamb Mounted (Packout): Hand Crank Operation
E-Series™ Between Jamb Mounted (Packout): Motor Operation
E-Series™ Between Tube Mounted: Manual Push-Up Operation
E-Series™ Between Tube Mounted: Hand Chain Operation
E-Series™ Between Tube Mounted: Hand Crank Operation
E-Series™ Between Tube Mounted: Motor Operation
All Available Specifications