Speed-Tite
High speed roll up doors for use wherever speed and security are required

Springless design maximizes uptime

Faster cycles reduce energy costs and increase productivity
Functional Benefits:
Alpine's Speed-Tite™ high performance commercial rolling steel doors are fully weather sealed, providing protection against the harshest weather conditions.
The Speed-Tite's variable frequency operator allows for increased speeds (up to 24″ up, and 12″ down) and increased longevity with soft start/stop features
No sprocket or chain, which tend to wear over time
Static and operational windloads are available
Standard safety and entrapment features include light curtains and photo eyes
Warrantied up to 300,000 cycles or 2 years
Vision lights: 6' x 1-1/2" glazed panels available spaced 12" on center.
Optional monitored sensing edge
Optional breakaway bottom bar and extended (overwrapped) curtain allow you to keep your door running in the event of damage to the door. The slat height is extended either 3' or 6' taller than required, with these additional slats remaining under the hood. In the event of damage to the lower part of the curtain, the bottom bar will break away allowing the damaged slats to be removed. The extended part will then "move down" to the exposed area of the curtain.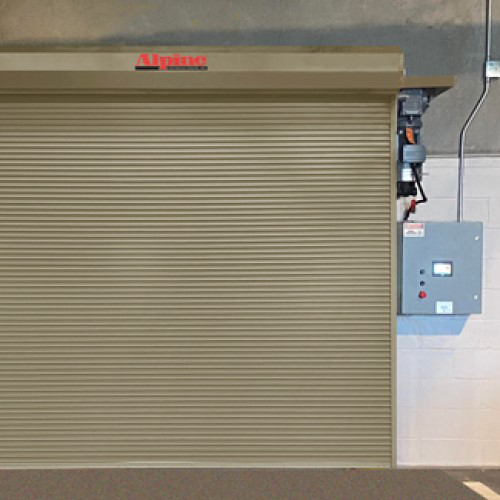 Speed-Tite Face Mounted to Masonry: Motor Operation
Speed-Tite Face Mounted to Steel: Motor Operation
Speed-Tite™ IMB Face Mounted to Masonry: Motor Operation
Speed-Tite™ IMB Face Mounted to Steel: Motor Operation
All Available Specifications