IMB-V7
Insulated roll up door with metal backing

Provides increased thermal protection

Fully weather-stripped

R-Value = 8.01 with a U-Factor of .125, and STC rating of 26.


7/8″ thick polystyrene

Optional polyurethane insulation
Functional Benefits:
2.75" insulated flat 7/8" thick slats available in various front/back slat gauge combinations.
Polystyrene Insulation with an option for foamed in place CFC and HCFC free polyurethane insulation.
Doors can be manual hand crank, hand chain or motor operated. All operators can be adapted to specific conditions.
Standard as galvanized with Stainless Steel, B.S. Aluminum and ExoShield™ powder coating as an optional finish.
Provides protection against water penetration and other inclement weather conditions.
Can be installed on the interior, exterior, face of wall or between jambs.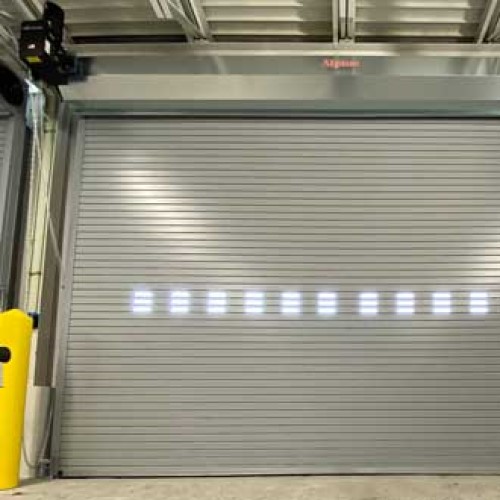 IMB-V7 Face Mounted to Masonry: Hand Chain Operation
IMB-V7 Face Mounted to Masonry: Hand Crank Operation
IMB-V7 Face Mounted to Masonry: Motor Operation
IMB-V7 Face Mounted to Steel: Hand Chain Operation
IMB-V7 Face Mounted to Steel: Hand Crank Operation
IMB-V7 Face Mounted to Steel: Motor Operation
IMB-V7 Between Jamb Mounted (Packout): Hand Chain Operation
IMB-V7 Between Jamb Mounted (Packout): Hand Crank Operation
IMB-V7 Between Jamb Mounted (Packout): Motor Operation
IMB-V7 Between Tube Mounted: Hand Chain Operation
IMB-V7 Between Tube Mounted: Hand Crank Operation
IMB-V7 Between Tube Mounted: Motor Operation
All Available Specifications