Dawn 4" Door
Storefront security doors, rolling doors and container doors are great for storefronts, warehouse entrances, sheds and indoor/outdoor flea markets

Incorporates a 4″ interlocking curve slat design

Roller gate box spring doors consist of a flat blue spring steel wrapped around a 2″ pipe shaft mounted to a spring box
Functional Benefits:
Alpine's Dawn-4-Doors add additional strength to curtain assemblies. They have heavier pounds per square foot for higher wind loads with wind locks.
They have a tighter corrugated slat for more protection.
All operators can be adapted to specific conditions.
Slide lock or pin locking mechanisms can be provided depending on the type of door operation.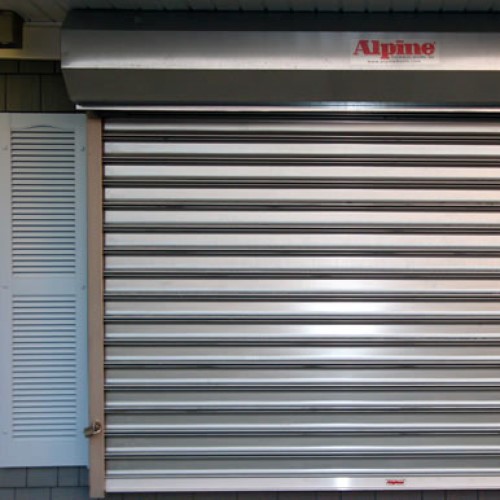 Dawn 4" Door Manual (Push-Up) Operated Container Doors: Face Mounted
Dawn 4" Door Manual (Push-Up) Operated Container Doors: Between Jamb
Dawn 4" Door Motor Operated Container Rolling Doors: Face Mounted
Dawn 4" Door Motor Operated Container Rolling Doors: Between Jamb
All Available Specifications