E-Series™ Vision
Our perforated rolling door offers a high quality, low cost security space saving solution

Torsion spring counterbalanced
Functional Benefits:
4.0" perforated galvanized 20 gauge curved slats.
Strong and effective yet cosmetically pleasing in appearance.
Doors can be manual push up, hand crank, hand chain or motor operated. All operators can be adapted to specific conditions.
Ideal for specialty projects requiring ventilation and/or security while showcasing inventory items.
Can be installed on the interior, exterior, face of wall or between jambs.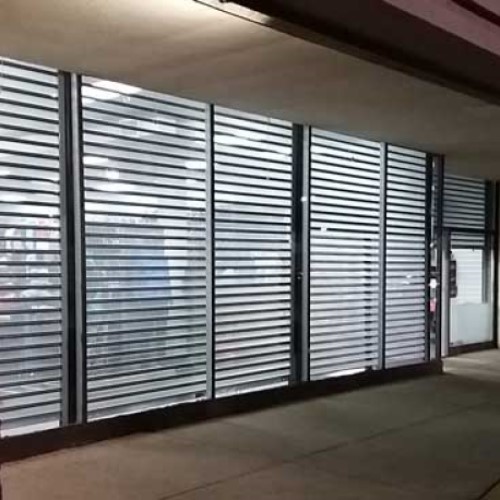 E-Series™ Vision Face Mounted to Masonry: Manual Push-Up Operation
E-Series™ Vision Face Mounted to Masonry: Hand Chain Operation
E-Series™ Vision Face Mounted to Masonry: Hand Crank Operation
E-Series™ Vision Face Mounted to Masonry: Motor Operation
E-Series™ Vision Face Mounted to Steel: Manual Push-Up Operation
E-Series™ Vision Face Mounted to Steel: Hand Chain Operation
E-Series™ Vision Face Mounted to Steel: Hand Crank Operation
E-Series™ Vision Face Mounted to Steel: Motor Operation
E-Series™ Vision Between Jamb Mounted (Packout): Manual Push-Up Operation
E-Series™ Vision Between Jamb Mounted (Packout): Hand Chain Operation
E-Series™ Vision Between Jamb Mounted (Packout): Hand Crank Operation
E-Series™ Vision Between Jamb Mounted (Packout): Motor Operation
E-Series™ Vision Between Tube Mounted: Manual Push-Up Operation
E-Series™ Vision Between Tube Mounted: Hand Chain Operation
E-Series™ Vision Between Tube Mounted: Hand Crank Operation
E-Series™ Vision Between Tube Mounted: Motor Operation
All Available Specifications