Mall-Dawn™
Mall security gates provide security with an open appearance

Curtains available in aluminum or stainless steel

Available with tube spacers (Mall-Dawn) or as continuous link (Mall-Dawn X)

Our mall doors are constructed with quality, long lasting materials
Functional Benefits:
Horizontal rods: Solid 5/16" galvanized, with option for Aluminum Anodized or Stainless Steel.
Vertical spacing: Aluminum or Stainless Steel vertical links, 2" on center.
Continuous end links with lock washers are designed to prevent the curtain from leaving the guide rails
Mall-Dawn is available in standard 6" brick pattern, or 9" straight lattice pattern as an option. (Mall-Dawn X is only available with 6″ or 9″ straight pattern.)
Extruded aluminum guides with wool pile runners and snap on trim to hide fasteners.
2" x 3 ½" tubular aluminum bottom bar standard.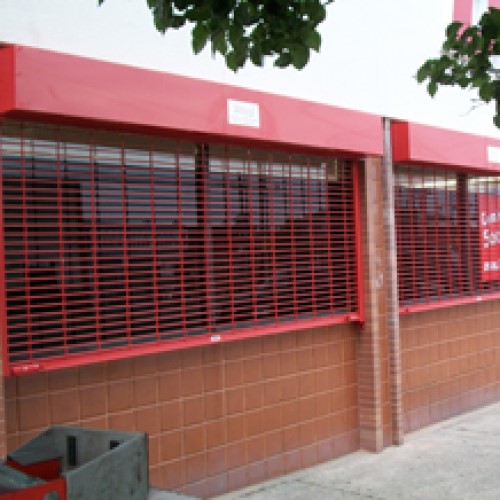 Mall-Dawn™ Face Mounted to Masonry: Manual Push-Up Operation
Mall-Dawn™ Face Mounted to Masonry: Hand Chain Operation
Mall-Dawn™ Face Mounted to Masonry: Hand Crank Operation
Mall-Dawn™ Face Mounted to Masonry: Motor Operation
Mall-Dawn™ Face Mounted to Steel: Manual Push-Up Operation
Mall-Dawn™ Face Mounted to Steel: Hand Chain Operation
Mall-Dawn™ Face Mounted to Steel: Hand Crank Operation
Mall-Dawn™ Face Mounted to Steel: Motor Operation
Mall-Dawn™ Between Jamb Mounted (Packout): Manual Push-Up Operation
Mall-Dawn™ Between Jamb Mounted (Packout): Hand Chain Operation
Mall-Dawn™ Between Jamb Mounted (Packout): Hand Crank Operation
Mall-Dawn™ Between Jamb Mounted (Packout): Motor Operation
Mall-Dawn™ Between Tube Mounted: Manual Push-Up Operation
Mall-Dawn™ Between Tube Mounted: Hand Chain Operation
Mall-Dawn™ Between Tube Mounted: Hand Crank Operation
Mall-Dawn™ Between Tube Mounted: Motor Operation
All Available Specifications