Counter-Grille™
High quality, space saving rolling shutters at an affordable price

Provides security against theft and vandalism, and ventilation

Exposed material is aluminum, horizontal rods have tubular spacers that are either PVC, aluminum or stainless steel

6" brick, or straight lattice pattern in 6" or 9"
Functional Benefits:
Horizontal rods: Solid 5/16" galvanized with option for PVC, Aluminum Anodized or Stainless Steel Sleeves.
Vertical spacing: Aluminum or Stainless Steel vertical links, 2" on center.
Continuous end links with lock washers are designed to prevent the curtain from leaving the guide rails.
Doors can be manual push up, hand crank, hand chain or motor operated. All operators can be adapted to specific conditions.
Alpine rolling shutters are highly durable and are designed to withstand heavy commercial use.
Provides protection while enhancing the look of the opening it is protecting.
Can be installed on the interior, exterior, face of wall or between jambs.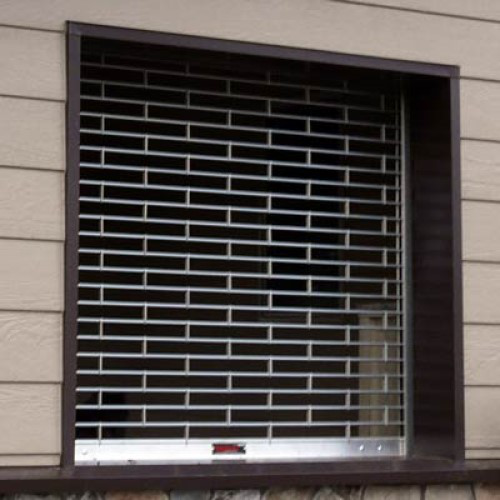 Counter-Grille™ Face Mounted to Masonry: Manual Push-Up Operation
Counter-Grille™ Face Mounted to Masonry: Hand Crank Operation
Counter-Grille™ Face Mounted to Masonry: Motor Operation
Counter-Grille™ Face Mounted to Steel: Manual Push-Up Operation
Counter-Grille™ Face Mounted to Steel: Hand Crank Operation
Counter-Grille™ Face Mounted to Steel: Motor Operation
Counter-Grille™ Between Jamb Mounted (Packout): Manual Push-Up Operation
Counter-Grille™ Between Jamb Mounted (Packout): Hand Crank Operation
Counter-Grille™ Between Jamb Mounted (Packout): Motor Operation
Counter-Grille™ Between Tube Mounted: Manual Push-Up Operation
Counter-Grille™ Between Tube Mounted: Hand Crank Operation
Counter-Grille™ Between Tube Mounted: Motor Operation
All Available Specifications