Fire-Shut®
Fire rated counter shutter; U.L. classified to 3 hours of protection

Coiling Fire shutters are ideal for all pass-through openings such as service counters, concession stands and cafeteria counters

Fire shutter coils upward, requiring little side or head room

Built in accordance with the requirements specified by Underwriters Laboratories Inc.
Functional Benefits:
These doors provide access control and security protection under normal use and will close automatically in the event of a fire, serving as a fire wall to contain spread of a fire.
Activates upon melting of 165º fusible link.
Conventional design offers a push-up operation product, where Auto Fire-Shut® does not.
The lowest upfront cost available.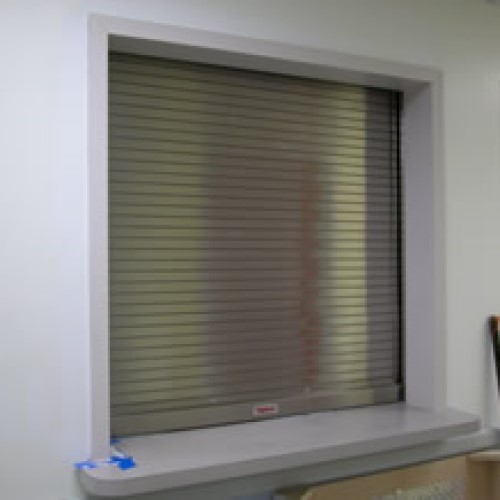 Fire-Shut® Face Mounted to Masonry: Manual Push-Up Operation
Fire-Shut® Face Mounted to Masonry: Hand Crank Operation
Fire-Shut® Face Mounted to Masonry: Motor Operation
Fire-Shut® Face Mounted to Steel: Manual Push-Up Operation
Fire-Shut® Face Mounted to Steel: Hand Crank Operation
Fire-Shut® Face Mounted to Steel: Motor Operation
Fire-Shut® Between Tube Mounted: Manual Push-Up Operation
Fire-Shut® Between Tube Mounted: Hand Crank Operation
Fire-Shut® Between Tube Mounted: Motor Operation
All Available Specifications