Smoke Fire-Shut® Split-Frame™
Rolling counter shutters accent and enhance building decor

Available in a variety of finishes

Counter shutters fit new and existing openings up to 86 sq.ft.

Labels: UL 1 ½ hour or ¾ hour

Fire doors customized to fit your wall thickness

Ideal for cafeterias, health care facilities, schools & universities, concession stand window, concession stand door, etc.
Functional Benefits:
These doors are fully assembled at the factory and offer a clean, custom appearance with no exposed edges.
There exists no field assembly required therefore these doors make for a quick and easy installation.
Completed units are factory welded and provide a seamless, built -in look.
Units are built to exact opening size requirements.
Smoke sealed doors.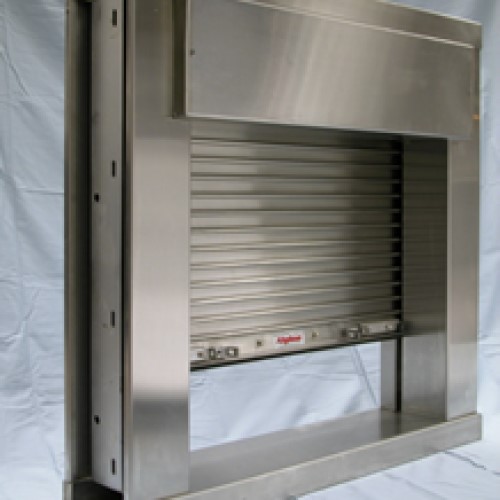 Smoke Fire-Shut® Split-Frame™ Integral Frame: Manual Push-Up Operation
Smoke Fire-Shut® Split-Frame™ Integral Frame: Hand Crank Operation
Smoke Fire-Shut® Split-Frame™ Integral Frame: Motor Operation
All Available Specifications