Super-Imposed
This double door frame is a unique blend of rolling door and rolling grille to give you a superior versatile roll up gate

Double door frame is ideal for dual-closures in driveway openings of industrial plants, bus depots, warehouses, and factories

Loading dock door provides excellent security against theft and vandalism for all seasons. Your view through these security grilles will ensure you see everything

Loading dock rolling door available in a variety of materials and sizes
Functional Benefits:
Alpine Super-Imposed™ Doors provide a unique way to have the best of both worlds with only one installation.
This is a double door which consists of a solid or insulated rolling steel door and a rolling grille door (or Steel-Vision® Door) made-up of dual guides and dual coils, one door superimposed over the other door, mounted and fixed to a common bracket.
This is especially desirable for dual closures in driveway openings of industrial plants, warehouses and factories.
The Super-Imposed™ System provides double day and night protection and security.
Grille or Vision curtain allows fumes to escape the work area during business hours.
In climate controlled environments the solid curtain helps maintain desired temperature.
Installing double insulated curtains can provide an approximate STC rating of 32.
The double curtain/motor combination eliminates the need for additional openings needed to achieve the desired effects described here.
During the working day, when protection from vandalism is required but light, vision and ventilation is essential, the grille is rolled down while the door remains in its upward position. When the plant is closed the grille door and the steel door are both rolled down for complete security and protection.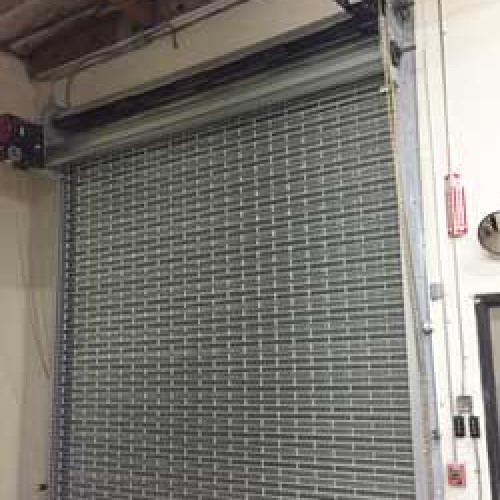 Super-Imposed Face Mounted to Masonry: Manual Push-Up Operation
Super-Imposed Face Mounted to Masonry: Hand Chain Operation
Super-Imposed Face Mounted to Masonry: Hand Crank Operation
Super-Imposed Face Mounted to Masonry: Motor Operation
Super-Imposed Face Mounted to Steel: Manual Push-Up Operation
Super-Imposed Face Mounted to Steel: Hand Chain Operation
Super-Imposed Face Mounted to Steel: Hand Crank Operation
Super-Imposed Face Mounted to Steel: Motor Operation
Super-Imposed Between Jamb Mounted (I-Beam): Manual Push-Up Operation
Super-Imposed Between Jamb Mounted (I-Beam): Hand Chain Operation
Super-Imposed Between Jamb Mounted (I-Beam): Hand Crank Operation
Super-Imposed Between Jamb Mounted (I-Beam): Motor Operation
Super-Imposed Between Tube Mounted: Manual Push-Up Operation
Super-Imposed Between Tube Mounted: Hand Chain Operation
Super-Imposed Between Tube Mounted: Hand Crank Operation
Super-Imposed Between Tube Mounted: Motor Operation
All Available Specifications