Vinyl Line: Series 3700 Multi-Slide Door
In addition to being our most economical solution to differentiate your homes through indoor-outdoor living, the Series 3700 Vinyl Multi-Slide Door addresses key operating mechanisms while also managing to enhance the installation process. With special features such as a "floating" track insert, integral nail fins, and a snap-in interlock, the Series 3700 rolls with ease while helping to make installation easier on your bottom line.
So whether you're designing a moving glass wall system into a single-family home community, townhouse, or condo, the Series 3700 Vinyl Multi-Slide Door is your passageway between a great idea and a great result.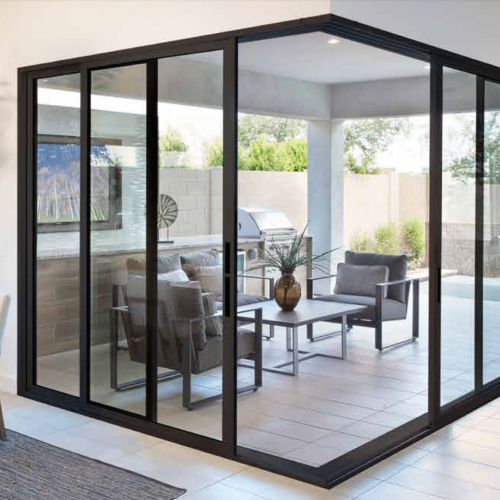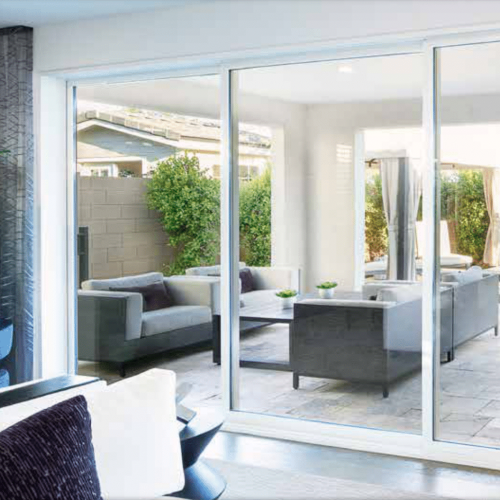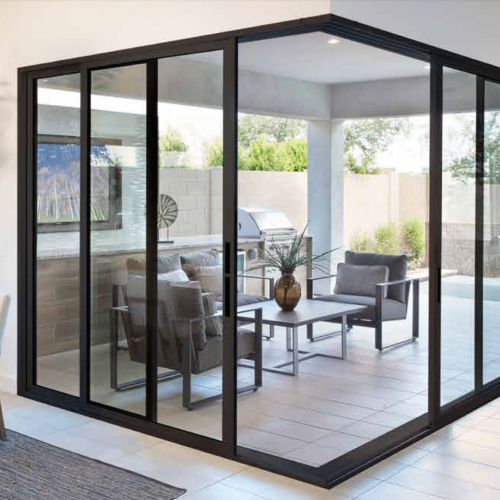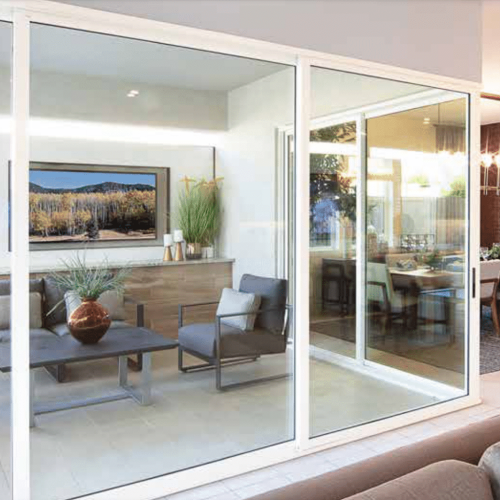 XO - 1 Vent Panel Stacking with 1 Fixed Panel - (8080 - 8' Wide by 8' High)
OX - 1 Fixed Panel Stacking with 1 Vent Panel - (8080 - 8' Wide by 8' High)
XXO - 2 Vent Panels Stacking with 1 Fixed Panel - (9080 - 9' Wide by 8' High)
OX - 1 Fixed Panel Stacking with 1 Vent Panel - (9080 - 9' Wide by 8' High)
XXX - 3 Vent Panels Stacking - (9080 - 9' Wide by 8' High)
XO - 1 Vent Panel Stacking with 1 Fixed Panel - (10080 - 10' Wide by 8' High)
OX - 1 Fixed Panel Stacking with 1 Vent Panel - (10080 - 10' Wide by 8' High)
XXO - 2 Vent Panels Stacking with 1 Fixed Panel - (10080 - 10' Wide by 8' High)
OX - 1 Fixed Panel Stacking with 1 Vent Panel - (10080 - 10' Wide by 8' High)
XXO - 2 Vent Panels Stacking with 1 Fixed Panel - (12080 - 12' Wide by 8' High)
XXXO - 3 Vent Panels Stacking with 1 Fixed Panel - (12080 - 12' Wide by 8' High)
OX - 1 Fixed Panel Stacking with 1 Vent Panel - (12080 - 12' Wide by 8' High)
OX - 1 Fixed Panel Stacking with 1 Vent Panel - (12080 - 12' Wide by 8' High)
XXX - 3 Vent Panels Stacking - (12080 - 12' Wide by 8' High)
XXXX - 4 Vent Panels Stacking - (12080 - 12' Wide by 8' High)
XXO - 2 Vent Panels Stacking with 1 Fixed Panel - (14080 - 14' Wide by 8' High)
OX - 1 Fixed Panel Stacking with 1 Vent PanelX - (14080 - 14' Wide by 8' High)
XXO - 2 Vent Panels Stacking with 1 Fixed Panel - (15080 - 15' Wide by 8' High)
XXXO - 3 Vent Panels Stacking with 1 Fixed Panel - (16080 - 6' Wide by 8' High)
OX - 1 Fixed Panel Stacking with 1 Vent Panel - (16080 - 6' Wide by 8' High)
XXXX - 4 Vent Panels Stacking - (16080 - 6' Wide by 8' High)
XXXO - 3 Vent Panels Stacking with 1 Fixed Panel - (18080 - 8' Wide by 8' High)
OX - 1 Fixed Panel Stacking with 1 Vent Panel - (18080 - 8' Wide by 8' High)
XXXO - 3 Vent Panels Stacking with 1 Fixed Panel - (20080 - 20' Wide by 8' High)
OX - 1 Fixed Panel Stacking with 1 Vent Panel - (20080 - 20' Wide by 8' High)
XXXX - 4 Vent Panels Stacking - (20080 - 20' Wide by 8' High)
OX-XO - 1 Fixed Panel Stacking with 1 Vent Panel - 1 Vent Panel Stacking with 1 Fixed Panel - (6080-6080 - 6' Wide by 8' High / 6' Wide by 8' High)
OX-XO - 1 Fixed Panel Stacking with 1 Vent Panel - 1 Vent Panel Stacking with 1 Fixed Panel - (6080-8080 - 6' Wide by 8' High / 8' Wide by 8' High)
OX-XO - 1 Fixed Panel Stacking with 1 Vent Panel - 1 Vent Panel Stacking with 1 Fixed Panel - (8080-6080 - 8' Wide by 8' High / 6' Wide by 8' High)
OX-XO - 1 Fixed Panel Stacking with 1 Vent Panel - 1 Vent Panel Stacking with 1 Fixed Panel - (10080-10080 - 10' Wide by 8' High / 10' Wide by 8' High)
OX-XXO - 1 Fixed Panel Stacking with 1 Vent Panel - 2 Vent Panels Stacking with 1 Fixed Panel - (6080-9080 - 6' Wide by 8' High / 9' Wide by 8' High)
OX-XXO - 1 Fixed Panel Stacking with 1 Vent Panel - 2 Vent Panels Stacking with 1 Fixed Panel - (6080-12080 - 6' Wide by 8' High / 12' Wide by 8' High)
OX-XXO - 1 Fixed Panel Stacking with 1 Vent Panel - 2 Vent Panels Stacking with 1 Fixed Panel - (6080-15080 - 6' Wide by 8' High / 15' Wide by 8' High)
OX-XXO - 1 Fixed Panel Stacking with 1 Vent Panel - 2 Vent Panels Stacking with 1 Fixed Panel - (8080-9080 - 8' Wide by 8' High / 9' Wide by 8' High)
OX-XXO - 1 Fixed Panel Stacking with 1 Vent Panel - 2 Vent Panels Stacking with 1 Fixed Panel - (8080-12080 - 8' Wide by 8' High / 12' Wide by 8' High)
OX-XXO - 1 Fixed Panel Stacking with 1 Vent Panel - 2 Vent Panels Stacking with 1 Fixed Panel - (8080-15080 - 8' Wide by 8' High / 15' Wide by 8' High)
OX-XXXO - 1 Fixed Panel Stacking with 1 Vent Panel - 3 Vent Panels Stacking with 1 Fixed Panel - (6080-16080 - 6' Wide by 8' High / 16' Wide by 8' High)
OX-XXXO - 1 Fixed Panel Stacking with 1 Vent Panel - 3 Vent Panels Stacking with 1 Fixed Panel - (6080-20080 - 6' Wide by 8' High / 20' Wide by 8' High)
OX-XXXO - 1 Fixed Panel Stacking with 1 Vent Panel - 3 Vent Panels Stacking with 1 Fixed Panel - (8080-16080 - 8' Wide by 8' High / 16' Wide by 8' High)
OX-XXXO - 1 Fixed Panel Stacking with 1 Vent Panel - 3 Vent Panels Stacking with 1 Fixed Panel - (8080-20080 - 8' Wide by 8' High / 20' Wide by 8' High)
OX-XXXO - 1 Fixed Panel Stacking with 1 Vent Panel - 3 Vent Panels Stacking with 1 Fixed Panel - (8080-16080 - 8' Wide by 8' High / 16' Wide by 8' High)
OX-XXXO - 1 Fixed Panel Stacking with 1 Vent Panel - 3 Vent Panels Stacking with 1 Fixed Panel - (8080-20080 - 8' Wide by 8' High / 20' Wide by 8' High)
OXX-XO - 1 Fixed Panel Stacking with 2 Vent Panels - 1 Vent Panel Stacking with 1 Fixed Panel - (9080-6080 - 9' Wide by 8' High / 6' Wide by 8' High)
OXX-XO - 1 Fixed Panel Stacking with 2 Vent Panels - 1 Vent Panel Stacking with 1 Fixed Panel - (9080-8080 - 9' Wide by 8' High / 8' Wide by 8' High)
OXX-XO - 1 Fixed Panel Stacking with 2 Vent Panels - 1 Vent Panel Stacking with 1 Fixed Panel - (12080-6080 - 12' Wide by 8' High / 6' Wide by 8' High)
OXX-XO - 1 Fixed Panel Stacking with 2 Vent Panels - 1 Vent Panel Stacking with 1 Fixed Panel - (12080-8080 - 12' Wide by 8' High / 8' Wide by 8' High)
OXX-XO - 1 Fixed Panel Stacking with 2 Vent Panels - 1 Vent Panel Stacking with 1 Fixed Panel - (15080-8080 - 15' Wide by 8' High / 8' Wide by 8' High)
OXX-XXO - 1 Fixed Panel Stacking with 2 Vent Panels - 2 Vent Panels Stacking with 1 Fixed Panel - (9080-9080 - 9' Wide by 8' High / 9' Wide by 8' High)
OXX-XXO - 1 Fixed Panel Stacking with 2 Vent Panels - 2 Vent Panels Stacking with 1 Fixed Panel - (9080-12080 - 9' Wide by 8' High / 12' Wide by 8' High)
OXX-XXO - 1 Fixed Panel Stacking with 2 Vent Panels - 2 Vent Panels Stacking with 1 Fixed Panel - (9080-15080 - 9' Wide by 8' High / 15' Wide by 8' High)
OXX-XXO - 1 Fixed Panel Stacking with 2 Vent Panels - 2 Vent Panels Stacking with 1 Fixed Panel - (12080-15080 - 12' Wide by 8' High / 15' Wide by 8' High)
OXX-XXO - 1 Fixed Panel Stacking with 2 Vent Panels - 2 Vent Panels Stacking with 1 Fixed Panel - (12080-9080 - 12' Wide by 8' High / 9' Wide by 8' High)
OXX-XXO - 1 Fixed Panel Stacking with 2 Vent Panels - 2 Vent Panels Stacking with 1 Fixed Panel - (12080-12080 - 12' Wide by 8' High / 12' Wide by 8' High)
OXX-XXO - 1 Fixed Panel Stacking with 2 Vent Panels - 2 Vent Panels Stacking with 1 Fixed Panel - (15080-9080 - 15' Wide by 8' High / 9' Wide by 8' High)
OXX-XXO - 1 Fixed Panel Stacking with 2 Vent Panels - 2 Vent Panels Stacking with 1 Fixed Panel - (15080-12080 - 15' Wide by 8' High / 12' Wide by 8' High)
OXX-XXXO - 1 Fixed Panel Stacking with 2 Vent Panels - 3 Vent Panels Stacking with 1 Fixed Panel - (9080-16080 - 9' Wide by 8' High / 16' Wide by 8' High)
OXX-XXXO - 1 Fixed Panel Stacking with 2 Vent Panels - 3 Vent Panels Stacking with 1 Fixed Panel - (9080-20080 - 9' Wide by 8' High / 20' Wide by 8' High)
OXX-XXXO - 1 Fixed Panel Stacking with 2 Vent Panels - 3 Vent Panels Stacking with 1 Fixed Panel - (12080-16080 - 12' Wide by 8' High / 16' Wide by 8' High)
OXX-XXXO - 1 Fixed Panel Stacking with 2 Vent Panels - 3 Vent Panels Stacking with 1 Fixed Panel - (12080-20080 - 12' Wide by 8' High / 20' Wide by 8' High)
OXX-XXXO - 1 Fixed Panel Stacking with 2 Vent Panels - 3 Vent Panels Stacking with 1 Fixed Panel - (15080-16080 - 15' Wide by 8' High / 16' Wide by 8' High)
OXX-XXXO - 1 Fixed Panel Stacking with 2 Vent Panels - 3 Vent Panels Stacking with 1 Fixed Panel - (15080-20080 - 15' Wide by 8' High / 20' Wide by 8' High)
OXXX-XO - 1 Fixed Panel Stacking with 3 Vent Panels - 1 Vent Panel Stacking with 1 Fixed Panel - (16080-6080 - 16' Wide by 8' High / 6' Wide by 8' High)
OXXX-XO - 1 Fixed Panel Stacking with 3 Vent Panels - 1 Vent Panel Stacking with 1 Fixed Panel - (16080-8080 - 16' Wide by 8' High / 8' Wide by 8' High)
OXXX-XO - 1 Fixed Panel Stacking with 3 Vent Panels - 1 Vent Panel Stacking with 1 Fixed Panel - (20080-6080 - 20' Wide by 8' High / 6' Wide by 8' High)
OXXX-XO - 1 Fixed Panel Stacking with 3 Vent Panels - 1 Vent Panel Stacking with 1 Fixed Panel - (20080-8080 - 20' Wide by 8' High / 8' Wide by 8' High)
OXXX-XXO - 1 Fixed Panel Stacking with 3 Vent Panels - 2 Vent Panels Stacking with 1 Fixed Panel - (16080-9080 - 16' Wide by 8' High / 9' Wide by 8' High)
OXXX-XXO - 1 Fixed Panel Stacking with 3 Vent Panels - 2 Vent Panels Stacking with 1 Fixed Panel - (16080-12080 - 16' Wide by 8' High / 12' Wide by 8' High)
OXXX-XXO - 1 Fixed Panel Stacking with 3 Vent Panels - 2 Vent Panels Stacking with 1 Fixed Panel - (16080-15080 - 16' Wide by 8' High / 15' Wide by 8' High)
OXXX-XXO - 1 Fixed Panel Stacking with 3 Vent Panels - 2 Vent Panels Stacking with 1 Fixed Panel - (20080-9080 - 20' Wide by 8' High / 9' Wide by 8' High)
OXXX-XXO - 1 Fixed Panel Stacking with 3 Vent Panels - 2 Vent Panels Stacking with 1 Fixed Panel - (20080-12080 - 20' Wide by 8' High / 12' Wide by 8' High)
OXXX-XXO - 1 Fixed Panel Stacking with 3 Vent Panels - 2 Vent Panels Stacking with 1 Fixed Panel - (20080-15080 - 20' Wide by 8' High / 15' Wide by 8' High)
OXXX-XXXO - 1 Fixed Panel Stacking with 3 Vent Panels - 3 Vent Panels Stacking with 1 Fixed Panel - (12080-12080 - 12' Wide by 8' High / 12' Wide by 8' High)
OXXX-XXXO - 1 Fixed Panel Stacking with 3 Vent Panels - 3 Vent Panels Stacking with 1 Fixed Panel - (12080-16080 - 12' Wide by 8' High / 16' Wide by 8' High)
OXXX-XXXO - 1 Fixed Panel Stacking with 3 Vent Panels - 3 Vent Panels Stacking with 1 Fixed Panel - (12080-20080 - 12' Wide by 8' High / 20' Wide by 8' High)
OXXX-XXXO - 1 Fixed Panel Stacking with 3 Vent Panels - 3 Vent Panels Stacking with 1 Fixed Panel - (16080-16080 - 16' Wide by 8' High / 16' Wide by 8' High)
OXXX-XXXO - 1 Fixed Panel Stacking with 3 Vent Panels - 3 Vent Panels Stacking with 1 Fixed Panel - (16080-20080 - 16' Wide by 8' High / 20' Wide by 8' High)
OXXX-XXXO - 1 Fixed Panel Stacking with 3 Vent Panels - 3 Vent Panels Stacking with 1 Fixed Panel - (20080-12080 - 20' Wide by 8' High / 12' Wide by 8' High)
OXXX-XXXO - 1 Fixed Panel Stacking with 3 Vent Panels - 3 Vent Panels Stacking with 1 Fixed Panel - (20080-16080 - 20' Wide by 8' High / 16' Wide by 8' High)
OXXX-XXXO - 1 Fixed Panel Stacking with 3 Vent Panels - 3 Vent Panels Stacking with 1 Fixed Panel - (20080-20080 - 20' Wide by 8' High / 20' Wide by 8' High)
OX-XO - 1 Fixed Panel Stacking with 1 Vent Panel - 1 Vent Panel Stacking with 1 Fixed Panel - (6080-6080 - 6' Wide by 8' High / 6' Wide by 8' High)
OX-XO - 1 Fixed Panel Stacking with 1 Vent Panel - 1 Vent Panel Stacking with 1 Fixed Panel - (6080-8080 - 6' Wide by 8' High / 8' Wide by 8' High)
OX-XO - 1 Fixed Panel Stacking with 1 Vent Panel - 1 Vent Panel Stacking with 1 Fixed Panel - (8080-8080 - 8' Wide by 8' High / 8' Wide by 8' High)
OX-XO - 1 Fixed Panel Stacking with 1 Vent Panel - 1 Vent Panel Stacking with 1 Fixed Panel - (10080-10080 - 10' Wide by 8' High / 10' Wide by 8' High)
OX-XXO - 1 Fixed Panel Stacking with 1 Vent Panel - 2 Vent Panels Stacking with 1 Fixed Panel - (6080-9080 - 6' Wide by 8' High / 9' Wide by 8' High)
OX-XXO - 1 Fixed Panel Stacking with 1 Vent Panel - 2 Vent Panels Stacking with 1 Fixed Panel - (8080-12080 - 8' Wide by 8' High / 12' Wide by 8' High)
OX-XXO - 1 Fixed Panel Stacking with 1 Vent Panel - 2 Vent Panels Stacking with 1 Fixed Panel - (8080-15080 - 8' Wide by 8' High / 15' Wide by 8' High)
OX-XXO - 1 Fixed Panel Stacking with 1 Vent Panel - 2 Vent Panels Stacking with 1 Fixed Panel - (6080-12080 - 6' Wide by 8' High / 12' Wide by 8' High)
OX-XXO - 1 Fixed Panel Stacking with 1 Vent Panel - 2 Vent Panels Stacking with 1 Fixed Panel - (6080-15080 - 6' Wide by 8' High / 15' Wide by 8' High)
OX-XXXO - 1 Fixed Panel Stacking with 1 Vent Panel - 2 Vent Panels Stacking with 1 Fixed Panel - (6080-16080 - 6' Wide by 8' High / 16' Wide by 8' High)
OX-XXXO - 1 Fixed Panel Stacking with 1 Vent Panel - 2 Vent Panels Stacking with 1 Fixed Panel - (6080-20080 - 6' Wide by 8' High / 20' Wide by 8' High)
OX-XXXO - 1 Fixed Panel Stacking with 1 Vent Panel - 2 Vent Panels Stacking with 1 Fixed Panel - (8080-16080 - 8' Wide by 8' High / 16' Wide by 8' High)
OX-XXXO - 1 Fixed Panel Stacking with 1 Vent Panel - 2 Vent Panels Stacking with 1 Fixed Panel - (8080-20080 - 8' Wide by 8' High / 20' Wide by 8' High)
OXX-XO - 1 Fixed Panel Stacking with 2 Vent Panels - 1 Vent Panel Stacking with 1 Fixed Panel - (9080-6080 - 9' Wide by 8' High / 6' Wide by 8' High)
OXX-XO - 1 Fixed Panel Stacking with 2 Vent Panels - 1 Vent Panel Stacking with 1 Fixed Panel - (9080-8080 - 9' Wide by 8' High / 8' Wide by 8' High)
OXX-XO - 1 Fixed Panel Stacking with 2 Vent Panels - 1 Vent Panel Stacking with 1 Fixed Panel - (12080-6080 - 12' Wide by 8' High / 6' Wide by 8' High)
OXX-XO - 1 Fixed Panel Stacking with 2 Vent Panels - 1 Vent Panel Stacking with 1 Fixed Panel - (12080-8080 - 12' Wide by 8' High / 8' Wide by 8' High)
OXX-XO - 1 Fixed Panel Stacking with 2 Vent Panels - 1 Vent Panel Stacking with 1 Fixed Panel - (15080-8080 - 15' Wide by 8' High / 8' Wide by 8' High)
OXX-XXO - 1 Fixed Panel Stacking with 2 Vent Panels - 2 Vent Panels Stacking with 1 Fixed Panel - (9080-9080 - 9' Wide by 8' High / 9' Wide by 8' High)
OXX-XXO - 1 Fixed Panel Stacking with 2 Vent Panels - 2 Vent Panels Stacking with 1 Fixed Panel - (9080-12080 - 9' Wide by 8' High / 12' Wide by 8' High)
OXX-XXO - 1 Fixed Panel Stacking with 2 Vent Panels - 2 Vent Panels Stacking with 1 Fixed Panel - (9080-15080 - 9' Wide by 8' High / 15' Wide by 8' High)
OXX-XXO - 1 Fixed Panel Stacking with 2 Vent Panels - 2 Vent Panels Stacking with 1 Fixed Panel - (12080-9080 - 12' Wide by 8' High / 9' Wide by 8' High)
OXX-XXO - 1 Fixed Panel Stacking with 2 Vent Panels - 2 Vent Panels Stacking with 1 Fixed Panel - (12080-12080 - 12' Wide by 8' High / 12' Wide by 8' High)
OXX-XXO - 1 Fixed Panel Stacking with 2 Vent Panels - 2 Vent Panels Stacking with 1 Fixed Panel - (12080-15080 - 12' Wide by 8' High / 15' Wide by 8' High)
OXX-XXO - 1 Fixed Panel Stacking with 2 Vent Panels - 2 Vent Panels Stacking with 1 Fixed Panel - (15080-9080 - 15' Wide by 8' High / 9' Wide by 8' High)
OXX-XXO - 1 Fixed Panel Stacking with 2 Vent Panels - 2 Vent Panels Stacking with 1 Fixed Panel - (15080-12080 - 15' Wide by 8' High / 12' Wide by 8' High)
OXX-XXO - 1 Fixed Panel Stacking with 2 Vent Panels - 2 Vent Panels Stacking with 1 Fixed Panel - (15080-15080 - 15' Wide by 8' High / 15' Wide by 8' High)
OXX-XXXO - 1 Fixed Panel Stacking with 2 Vent Panels - 3 Vent Panels Stacking with 1 Fixed Panel - (9080-16080 - 9' Wide by 8' High / 16' Wide by 8' High)
OXX-XXXO - 1 Fixed Panel Stacking with 2 Vent Panels - 3 Vent Panels Stacking with 1 Fixed Panel - (9080-20080 - 9' Wide by 8' High / 20' Wide by 8' High)
OXX-XXXO - 1 Fixed Panel Stacking with 2 Vent Panels - 3 Vent Panels Stacking with 1 Fixed Panel - (12080-16080 - 12' Wide by 8' High / 16' Wide by 8' High)
OXX-XXXO - 1 Fixed Panel Stacking with 2 Vent Panels - 3 Vent Panels Stacking with 1 Fixed Panel - (12080-20080 - 12' Wide by 8' High / 20' Wide by 8' High)
OXX-XXXO - 1 Fixed Panel Stacking with 2 Vent Panels - 3 Vent Panels Stacking with 1 Fixed Panel - (15080-16080 - 15' Wide by 8' High / 16' Wide by 8' High)
OXX-XXXO - 1 Fixed Panel Stacking with 2 Vent Panels - 3 Vent Panels Stacking with 1 Fixed Panel - (15080-20080 - 15' Wide by 8' High / 20' Wide by 8' High)
OXXX-XO - 1 Fixed Panel Stacking with 3 Vent Panels - 1 Vent Panel Stacking with 1 Fixed Panel - (16080-6080 - 6' Wide by 8' High / 6' Wide by 8' High)
OXXX-XO - 1 Fixed Panel Stacking with 3 Vent Panels - 1 Vent Panel Stacking with 1 Fixed Panel - (16080-8080 - 6' Wide by 8' High / 8' Wide by 8' High)
OXXX-XO - 1 Fixed Panel Stacking with 3 Vent Panels - 1 Vent Panel Stacking with 1 Fixed Panel - (20080-6080 - 20' Wide by 8' High / 6' Wide by 8' High)
OXXX-XO - 1 Fixed Panel Stacking with 3 Vent Panels - 1 Vent Panel Stacking with 1 Fixed Panel - (20080-8080 - 20' Wide by 8' High / 8' Wide by 8' High)
OXXX-XXO - 1 Fixed Panel Stacking with 3 Vent Panels - 2 Vent Panels Stacking with 1 Fixed Panel - (16080-9080 - 6' Wide by 8' High / 9' Wide by 8' High)
OXXX-XXO - 1 Fixed Panel Stacking with 3 Vent Panels - 2 Vent Panels Stacking with 1 Fixed Panel - (16080-12080 - 6' Wide by 8' High / 12' Wide by 8' High)
OXXX-XXO - 1 Fixed Panel Stacking with 3 Vent Panels - 2 Vent Panels Stacking with 1 Fixed Panel - (16080-15080 - 6' Wide by 8' High / 15' Wide by 8' High)
OXXX-XXO - 1 Fixed Panel Stacking with 3 Vent Panels - 2 Vent Panels Stacking with 1 Fixed Panel - (20080-9080 - 20' Wide by 8' High / 9' Wide by 8' High)
OXXX-XXO - 1 Fixed Panel Stacking with 3 Vent Panels - 2 Vent Panels Stacking with 1 Fixed Panel - (20080-12080 - 20' Wide by 8' High / 12' Wide by 8' High)
OXXX-XXO - 1 Fixed Panel Stacking with 3 Vent Panels - 2 Vent Panels Stacking with 1 Fixed Panel - (20080-15080 - 20' Wide by 8' High / 15' Wide by 8' High)
OXXX-XXXO - 1 Fixed Panel Stacking with 3 Vent Panels - 3 Vent Panels Stacking with 1 Fixed Panel - (12080-12080 - 12' Wide by 8' High / 12' Wide by 8' High)
OXXX-XXXO - 1 Fixed Panel Stacking with 3 Vent Panels - 3 Vent Panels Stacking with 1 Fixed Panel - (12080-16080 - 12' Wide by 8' High / 16' Wide by 8' High)
OXXX-XXXO - 1 Fixed Panel Stacking with 3 Vent Panels - 3 Vent Panels Stacking with 1 Fixed Panel - (12080-20080 - 12' Wide by 8' High / 20' Wide by 8' High)
OXXX-XXXO - 1 Fixed Panel Stacking with 3 Vent Panels - 3 Vent Panels Stacking with 1 Fixed Panel - (16080-12080 - 6' Wide by 8' High / 12' Wide by 8' High)
OXXX-XXXO - 1 Fixed Panel Stacking with 3 Vent Panels - 3 Vent Panels Stacking with 1 Fixed Panel - (16080-16080 - 6' Wide by 8' High / 16' Wide by 8' High)
OXXX-XXXO - 1 Fixed Panel Stacking with 3 Vent Panels - 3 Vent Panels Stacking with 1 Fixed Panel - (16080-20080 - 6' Wide by 8' High / 20' Wide by 8' High)
OXXX-XXXO - 1 Fixed Panel Stacking with 3 Vent Panels - 3 Vent Panels Stacking with 1 Fixed Panel - (20080-12080 - 20' Wide by 8' High / 12' Wide by 8' High)
OXXX-XXXO - 1 Fixed Panel Stacking with 3 Vent Panels - 3 Vent Panels Stacking with 1 Fixed Panel - (20080-16080 - 20' Wide by 8' High / 16' Wide by 8' High)
OXXX-XXXO - 1 Fixed Panel Stacking with 3 Vent Panels - 3 Vent Panels Stacking with 1 Fixed Panel - (20080-20080 - 20' Wide by 8' High / 20' Wide by 8' High)
OXXO - 2 Fixed Panels Bi Parting with 2 Vent Panels - (12080 - 12' Wide by 8' High)
OXXO - 2 Fixed Panels Bi Parting with 2 Vent Panels - (16080 - 16' Wide by 8' High)
OXXO - 2 Fixed Panels Bi Parting with 2 Vent Panels - (20080 - 20' Wide by 8' High)
OXXO - 2 Fixed Panels Bi Parting with 2 Vent Panels - (16080 - 16' Wide by 8' High)
OXXO - 2 Fixed Panels Bi Parting with 2 Vent Panels - (20080 - 20' Wide by 8' High)
PXXX - Pocket with 3 Vent Panels - (9080 - 9' Wide by 8' High)
XXXP - 3 Vent Panels with Pocket - (9080 - 9' Wide by 8' High)
PXXX - Pocket with 3 Vent Panels - (12080 - 12' Wide by 8' High)
PXXXX - Pocket with 4 Vent Panels - (12080 - 12' Wide by 8' High)
XXXP - 3 Vent Panels with Pocket - (12080 - 12' Wide by 8' High)
XXXXP - 4 Vent Panels with Pocket - (12080 - 12' Wide by 8' High)
PXXX - Pocket with 3 Vent Panels - (15080 - 15' Wide by 8' High)
XXXP - 3 Vent Panels with Pocket - (15080 - 15' Wide by 8' High)
PXXXX - Pocket with 4 Vent Panels - (16080 - 16' Wide by 8' High)
XXXXP - 4 Vent Panels with Pocket - (16080 - 16' Wide by 8' High)
PXXXX - Pocket with 4 Vent Panels - (20080 - 20' Wide by 8' High)
PXXXX - Pocket with 4 Vent Panels - (20080 - 12' Wide by 8' High)
PXXX-XXXP - Pocket with 3 Vent Panels - 3 Vent Panels with Pocket - (9080-9080 - 9' Wide by 8' High / 9' Wide by 8' High)
PXXX-XXXP - Pocket with 3 Vent Panels - 3 Vent Panels with Pocket - (9080-12080 - 9' Wide by 8' High / 12' Wide by 8' High)
PXXX-XXXP - Pocket with 3 Vent Panels - 3 Vent Panels with Pocket - (9080-15080 - 9' Wide by 8' High / 15' Wide by 8' High)
PXXX-XXXP - Pocket with 3 Vent Panels - 3 Vent Panels with Pocket - (12080-9080 - 12' Wide by 8' High / 9' Wide by 8' High)
PXXX-XXXP - Pocket with 3 Vent Panels - 3 Vent Panels with Pocket - (12080-12080 - 12' Wide by 8' High / 12' Wide by 8' High)
PXXX-XXXP - Pocket with 3 Vent Panels - 3 Vent Panels with Pocket - (12080-15080 - 12' Wide by 8' High / 15' Wide by 8' High)
PXXX-XXXP - Pocket with 3 Vent Panels - 3 Vent Panels with Pocket - (15080-9080 - 15' Wide by 8' High / 9' Wide by 8' High)
PXXX-XXXP - Pocket with 3 Vent Panels - 3 Vent Panels with Pocket - (15080-12080 - 15' Wide by 8' High / 12' Wide by 8' High)
PXXX-XXXP - Pocket with 3 Vent Panels - 3 Vent Panels with Pocket - (15080-15080 - 15' Wide by 8' High / 15' Wide by 8' High)
PXXXX-XXXXP - Pocket with 4 Vent Panels - 4 Vent Panels with Pocket - (12080-12080 - 12' Wide by 8' High / 12' Wide by 8' High)
PXXXX-XXXXP - Pocket with 4 Vent Panels - 4 Vent Panels with Pocket - (12080-16080 - 12' Wide by 8' High / 16' Wide by 8' High)
PXXXX-XXXXP - Pocket with 4 Vent Panels - 4 Vent Panels with Pocket - (12080-20080 - 12' Wide by 8' High / 20' Wide by 8' High)
PXXXX-XXXXP - Pocket with 4 Vent Panels - 4 Vent Panels with Pocket - (16080-12080 - 16' Wide by 8' High / 12' Wide by 8' High)
PXXXX-XXXXP - Pocket with 4 Vent Panels - 4 Vent Panels with Pocket - (16080-16080 - 16' Wide by 8' High / 16' Wide by 8' High)
PXXXX-XXXXP - Pocket with 4 Vent Panels - 4 Vent Panels with Pocket - (16080-20080 - 16' Wide by 8' High / 20' Wide by 8' High)
PXXXX-XXXXP - Pocket with 4 Vent Panels - 4 Vent Panels with Pocket - (20080-12080 - 20' Wide by 8' High / 12' Wide by 8' High)
PXXXX-XXXXP - Pocket with 4 Vent Panels - 4 Vent Panels with Pocket - (20080-16080 - 20' Wide by 8' High / 16' Wide by 8' High)
PXXXX-XXXXP - Pocket with 4 Vent Panels - 4 Vent Panels with Pocket - (20080-20080 - 20' Wide by 8' High / 20' Wide by 8' High)
PXXX-XXXP - Pocket with 3 Vent Panels - 3 Vent Panels with Pocket - (9080-9080 - 9' Wide by 8' High / 9' Wide by 8' High)
PXXX-XXXP - Pocket with 3 Vent Panels - 3 Vent Panels with Pocket - (9080-12080 - 9' Wide by 8' High / 12' Wide by 8' High)
PXXX-XXXP - Pocket with 3 Vent Panels - 3 Vent Panels with Pocket - (12080-12080 - 12' Wide by 8' High / 12' Wide by 8' High)
PXXX-XXXP - Pocket with 3 Vent Panels - 3 Vent Panels with Pocket - (12080-15080 - 12' Wide by 8' High / 15' Wide by 8' High)
PXXX-XXXP - Pocket with 3 Vent Panels - 3 Vent Panels with Pocket - (15080-9080 - 15' Wide by 8' High / 9' Wide by 8' High)
PXXX-XXXP - Pocket with 3 Vent Panels - 3 Vent Panels with Pocket - (15080-12080 - 15' Wide by 8' High / 12' Wide by 8' High)
PXXX-XXXP - Pocket with 3 Vent Panels - 3 Vent Panels with Pocket - (15080-15080 - 15' Wide by 8' High / 15' Wide by 8' High)
PXXXX-XXXXP - Pocket with 4 Vent Panels - 4 Vent Panels with Pocket - (12080-12080 - 12' Wide by 8' High / 12' Wide by 8' High)
PXXXX-XXXXP - Pocket with 4 Vent Panels - 4 Vent Panels with Pocket - (12080-16080 - 12' Wide by 8' High / 16' Wide by 8' High)
PXXXX-XXXXP - Pocket with 4 Vent Panels - 4 Vent Panels with Pocket - (12080-20080 - 12' Wide by 8' High / 20' Wide by 8' High)
PXXXX-XXXXP - Pocket with 4 Vent Panels - 4 Vent Panels with Pocket - (16080-12080 - 16' Wide by 8' High / 12' Wide by 8' High)
PXXXX-XXXXP - Pocket with 4 Vent Panels - 4 Vent Panels with Pocket - (16080-16080 - 16' Wide by 8' High / 16' Wide by 8' High)
PXXXX-XXXXP - Pocket with 4 Vent Panels - 4 Vent Panels with Pocket - (16080-20080 - 16' Wide by 8' High / 20' Wide by 8' High)
PXXXX-XXXXP - Pocket with 4 Vent Panels - 4 Vent Panels with Pocket - (20080-12080 - 20' Wide by 8' High / 12' Wide by 8' High)
PXXXX-XXXXP - Pocket with 4 Vent Panels - 4 Vent Panels with Pocket - (20080-16080 - 20' Wide by 8' High / 16' Wide by 8' High)
PXXXX-XXXXP - Pocket with 4 Vent Panels - 4 Vent Panels with Pocket - (20080-20080 - 20' Wide by 8' High / 12' Wide by 8' High)
PXXXXP - Pocket with 4 Vent Panels with Pocket - (12080 - 12' Wide by 8' High)
PXXXXP - Pocket with 4 Vent Panels with Pocket - (16080 - 16' Wide by 8' High)
PXXXXP - Pocket with 4 Vent Panels with Pocket - (20080 - 20' Wide by 8' High)