Pedestal Drinking Fountain Trough Style 810 SMSS-02
Master Plumbers with 50 years combined experience designed the Most Dependable Fountain. They knew the extreme circumstances the drinking fountain would have to endure and the practical solutions to those problems. Our water fountains represent the answer to the combined requests and needs of the industry. Quality speaks for itself and our confidence is stated in our company name.
Most Dependable Fountains, Inc. has become the industry leader in innovative products developed as a direct response to customer demands. Where there are leaders, there are followers.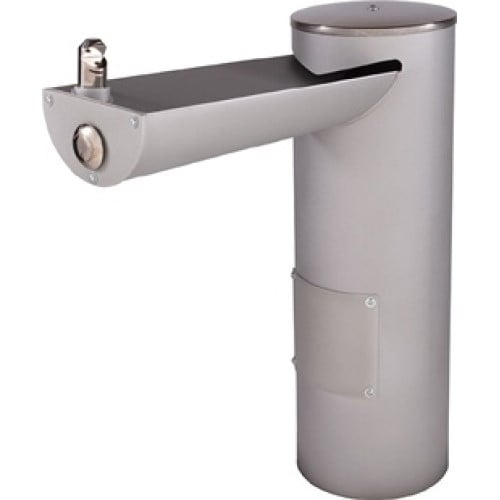 3.2) 810 SMSS-02 Pedestal surface mountain stainless steel fountain with one trough style ADA Arm and a cut away at the base designed for drainage into a floor drain. (Shown with optional Stainless Steel Surface Carrier-recommended)
3.10) 810 SMSS-02 w/ 10 Inch SS Surface Carrier, Kit HB
3.11) 810 SMSS-02 w/ 10 Inch SS Surface Carrier, Recessed HB w/ Lock Door
3.12) 810 SMSS-02 w/ 10 Inch SS Surface Carrier, Recessed HB w/ Lock Door, Kit UAVB, Kit COV w/ LPD
3.13) 810 SMSS-02 w/ 10 Inch SS Surface Carrier, JF
3.14) 810 SMSS-02 w/ 10 Inch SS Surface Carrier, Kit UAVB, Kit COV w/ LPD
3.2a) 810 SMSS-02 Pedestal surface mount stainless steel fountain with one trough style ADA Arm designed for drainage into a pea gravel. (Shown with optional 10" SS Surface Carrier and Pet Trough)
All Available 2D CAD Files