Freestanding Trellis Screen
Greenscreen® introduced its unique trellising system in 1993. The project that launched greenscreen® was CityWalk in Universal City, California. The mixed-use program at CityWalk called for vertical trellising that would create "an inhabited bush" atmosphere, without compromising the waterproof membrane of the building facade.
The design team turned to an existing space frame panel manufactured in Southern California for more than 25 years. The panel was originally designed for use in a panelized building system for low cost housing projects, and has also been successfully used in visual display and merchandising applications. greenscreen® further adapted the panel and added accessory items and upgraded the finishes for landscape use. Since that initial project there are now hundreds of greenscreen® projects both large and small installed nationally and internationally where vertical landscape elements are required.
Manufactured from recycled steel, this three dimensional welded wire system creates a captive growing space three inches deep to allow plant materials to intertwine and grow within the panel. With the easily adaptable system of attachment clips, the panel can attach to a building facade, and can span openings between floors or horizontally between posts.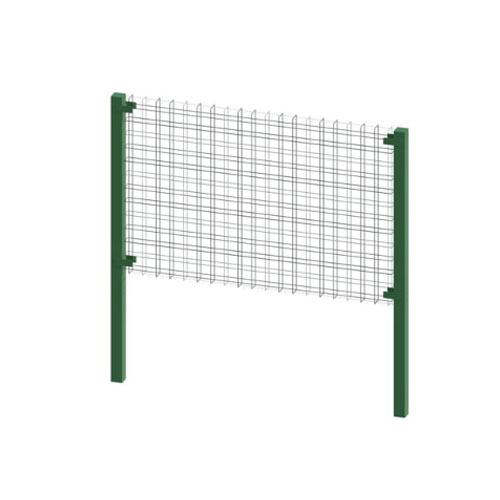 Freestanding Curved Trellis Fence: Post Application With Horizontal Truss, Crimp To Curve
Freestanding Trellis Fence: Post Application With Horizontal Truss
Freestanding Trellis Fence: Post Application With Vertical Truss
Trellis Trim Connection (5104): Post Mounted Application, Plan View
Trellis: Custom Trellis Panel With Notched Cut Out
Trellis: Vine Planting Detail - Post Mounted Application
Trellis: Custom Trellis Shapes
Greenscreen: Freestanding
C Clip Attachment (5141): Post Mounted Application, requires 5105 Steel Edge Trim
C Clip Attachment (5141): Panel to Slab Application, requires 5105 Steel Edge Trim
Standoff Attachment (5159): Wall Mounted Application, Plan View
Standoff Attachment (5159): Wall Mounted Application, Section View
Freestanding Trellis Fence: Curved Panel Truss - Post Mounted Application with Snap Clip Attachment (5133X)
Freestanding Trellis Fence: Horizontal Panel Truss - Post Mounted Application with Snap Clip Attachment (5133X)
Freestanding Trellis Fence: Vertical Panel Truss - Post Mounted Application with Snap Clip Attachment (5133X)
All Available 2D CAD Files
All Available BIM and 3D Files
All Available Specifications